Under My Control
This session will make changes at the center of your being...leaving you in a very deep and sexually euphoric state of mindlessness...
Description
Length: 61 minutes
Category: Mind Control--Erotic Hypnosis
My puppy, don't you love a relaxing bubble bath?  The way the warm water sucks you in and relieves all the tension in your body, the bubbles forming up around you, the way your mind can just switch off and sleep.
Slip into something soft wet and pink, like Me, GIGGLES...Yes, your Domina, a most alluring Seductress of your mind, has created a session that will sneak up on you, like a thief.  I will slip and slide My way into the center of your brain.  There is a sexy secret hidden within this session...I wonder if your subconscious mind will find it....as My hypnotic mind-play washes over you, surrender yourself to My words.  Lose yourself in Me.  Float in the wetness of this pleasurable reality I create for you, as W/we share this seductive intimacy.  Mindless and obedient, you're submerged by My warm pleasure, deep in your subconscious.  Listen NOW!
Product Download
Under-My-Control-(c)ShelleRivers.mp3
Under-My-Control-(c)ShelleRivers.mp3
Reviews
Thursday, 06 July 2017
I give up to find a clue what this is all about. I give up to try to consciously listen to it. So smooth and relaxing: i always end up in a deep trance within the first 10 min: I feel like locked out from my own mind – no control what Domina is doing inside. Just some flashes or short sounds – wetness? – a bath? - surrender. But i am always happy when i wake up!
Saturday, 04 March 2017
This is a w is you don't feel like you are being brainwashed but by the end of the trance you know something happened and you're left wondering what. That's domination and conditioning done expertly and covertly... Enjoy!
Tuesday, 14 February 2017
Not really sure how many times i've listened, but i'm no closer to figuring out what Domina Shelle has done to me. Not that it matters, it gets more and more pleasurable to submit to Her control each and every time.
More reviews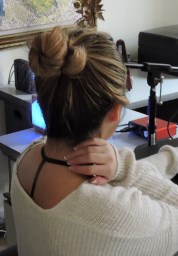 Get Updated