Victim of Mindlessness
This is a COMPULSION. This is truly Hypno-NOTHINGNESS...
Description
Length: 57 minutes
Category: Brainwashing-Mind Control-Enslavement--Femdom Hypnosis
Victim of Mindlessness
My sweet, I'm not going to tell you a lot about the contents of this mp3.  you will listen and experience it on your own.  This mp3 is your COMPULSION, you will not want to miss it.  Mindlessness, nothingness and helplessness all achieved in one session.
Be warned that you may experience numbness, unable to remember, and complete bliss of BLANKNESS all at the same time.
My words sound innocent and neutral and at the same time filled with hidden intentions.  As if My words in the first degree are for your conscious mind, easily understandable and completely harmless and the second degree deviant and wicked, (you love My sneaky wicked ways) only used to enslave your subconscious mind on the deepest level.
That is all that you need to know, the decision to listen has already been made.  Listen NOW and prepare to want this experience over and over again.
Product Download
Victim-of-Mindlessness-(c)ShelleRivers.mp3
Victim-of-Mindlessness-(c)ShelleRivers.mp3
Reviews
Saturday, 18 November 2017
This file immediately broke through my normal resistance to trance that i experience when i am anxious or have trouble letting go at times. Typically Domina slowly seduces me down to trance, it is always deep and pleasurable. Sometimes however, if i am not in the right state of mind or if i get interrupted, my mind can have trouble falling into deep trance. This file again just crashes throgh somehow and immediately drops me to a blank mindless state. Thank You Domina, for making me mindless...
Friday, 19 May 2017
I completely agree with the previous post...if you're someone who's typically difficult to hypnotize or go deep into trance, then this is the file to get. Even though I normally do 1 to 1.5 hour trance sessions, i have no problem listening to this file twice in a row. The mindlessness feels amazing and is so addictive. This is one of those files where i wish i could fit it in everyday alongside all the other wonderful works of my Domina Shelle.
Sunday, 15 January 2017
This is an outstanding example of a hypnosis file that caters for those who are ordinarily difficult to hypnotize or do not easily go into deep trances. Through distraction Domina Shelle progressively sends you into a very deep trance where it is very hard to think and it is as close to true mindlessness that many of us are ever likely to achieve. This file is a highly recommended and will undoubtedly make you curious to try Domina's other files that include an impressive range of induction/brainwashing techniques. Soon you will be eager to chant Domina's mantra twice a day!
More reviews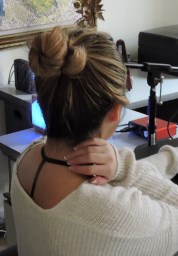 Get Updated