Wicked Witches--SpellBind you
A wicked Mind Job. Playful Wicked WITCHES Spell Binding you...
Description
Level: Medium
Length: 49 minutes
Category: Fetish-Fantasy-Playful--Erotic Hypnosis
Sample: LINK
Wicked Witches--SpellBind you
Playful little Wicked WITCHES --- SpellBinding you---Deja vu.  DO NOT allow the name of this mp3 to fool you...you will LOVE it...so SEXY, spellBINDING, CONFUSING and bewitching.
A wicked Mind Job.  The effects in the file are amazing and very POWERFUL.  By the time you have finished listening to this file your mind will be confused....mesmerized.....enchanted.....and completely spellbound.
I introduce you to Helena--she is wicked and willing to help Me CORRUPT your mind....addicting you to new fetishes.
I do hope that you enjoy this file...No I'm not a witch, but you will be SPELLBOUND forever and always. ***GIGGLES***
Product Download
brainwashspace.zip
brainwashspace.zip
Wicked-Witches-SpellBind-you-0he2nblg.mp3
Wicked-Witches-SpellBind-you-0he2nblg.mp3
IObeyPrincessShelle5.mp3
IObeyPrincessShelle5.mp3
Reviews
Monday, 04 July 2016
I am very happy to have discovered this as one of Domina Shelle's Special Deals for this week. I enjoy the idea of being under the spell of a beautiful witch, so this file is perfect for me. Domina is as enchanting as ever, and Helena, the second witch in the story, also had an appealing authoritative voice that helped add to the overall effect. I recommend this file to anyone who would like to experience the excitement of being spellbound and controlled. I give it 5 stars.
Tuesday, 22 July 2014
It is impossible to resist Domina Shelle. But when she team together with Helena, things just got destructive to your senses. You will be confused by the wicked witches, and if you try to resist, you will fall even faster. After you finish this file, you will feel their spell affecting you and you will feel completely lost, without any clue about what happened.
Monday, 14 July 2014
Listening this felt like I was dreaming. In this dream there will be two sexy women playing with you. It's a rare treat to be able to listen Domina Shelle and Helena together. They leave your mind a wonderful confusing mess.
More reviews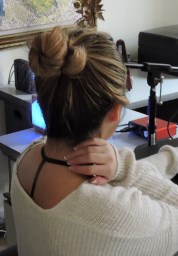 Get Updated