EROTIC HYPNOSIS MP3'S AND MORE

Welcome,
I am Domina Shelle, also called Princess.  If you know anything about Me, you know I am a strong believer in the superiority of Women, whether Dominant or submissive, over men, all men.  Let Me tell you a few things about Myself.  I am an accomplished erotic hypnotist, with a very effective approach, if I may say so.  I am soothing, tender, caring and reassuring.  I am sexy, addictive, a Mistress of slaves commanding deep devotion and obedience.
I also have a full time job as a registered nurse, interested in promoting a healthy lifestyle for My followers.  I am evolving as a Domina and want to develop meaningful, intimate relationships with women that are, mutually, beneficial.  Therefore, I am creating this Woman's page where that can happen.  If you are evolving come to Me and let My seductive voice take you on an erotic journey of discovery.  If you are certain of who you are, then explore where we may have overlapping sensual interests.
Listen to the sample links of my MP3 files to get a taste of My sweet enticing voice and style.  If you are exploring yourself or your body, trying to gain control over your living situation or find a need to serve and please Me, then email Me for My questionnaire and return it.  After knowing something about you, your needs and aspirations, we can take the next step to that mutually beneficial relationship. (If you purchase a file, let Me know which and I can send you one that I think you will need to hear, as My gift.)
Domina Shelle
Manufacturer:
Michelle Rivers
Results 1 - 5 of 5

Women Only
Products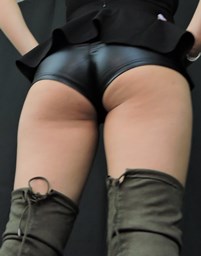 Get Updated