A Deeper Servitude
I will manipulate you into a deeper servitude...
Description
Length: 40 minutes
As a predator of your mind, I will manipulate you with My sweet sticky sexy words....yes, manipulated into the deepest hypnotic trance and leave you completely suggestible to what I want.  Sexy, don't you think.
One of My most developed and advanced weapons is sweet manipulation.  you know what I mean...women do it all the time.  you even love it when you are being manipulated.  Yes, with My soft sexy words and My naughty teasing, I easily manipulate you into what I want.  My words SNEAKY, sweet SEXY and irresistible to your empty open mind.  Manipulated into complete suggestibility and into perfect submission, MINDLESS and ready to do whatever your Domina wants.  Don't worry, I won't have to take what I want...you will just give it to Me! ~~~GIGGLES~~~
It's so simple for you...all you do is LISTEN and fall into trance.  I'll do the rest.
Be careful, you may find yourself needing to serve in many ways.  A perfect MINDSET for a submissive slave.
Product Download
A-Deeper-Servitude-(c)ShelleRivers.mp3
A-Deeper-Servitude-(c)ShelleRivers.mp3
Reviews
Tuesday, 30 May 2017
Domina reminds me of whats truly important. Domina Shelle is whats truly truly important. She taps in on my overwhelming need to please Her and brings me even closer to perfect service to Her. This file will bring You closer into the light of perfect surrender and obedience to domina
Saturday, 27 May 2017
The surprising thing for me about this session was just how deep into trance I fell during Domina's very creative induction. Long time listeners of erotic hypnosis know that trust in the hypnotist, depth of trance and and repeated listens lead to increased suggestibility. Since I implicitly trust Domina and I listen to all her sessions repeatedly, the impact of a session typically hinges on how deep into trance I go and how long I remain deep in trance. For this session I went very deep into trance during the first listen. Domina's suggestions were beyond compelling and even compulsion, it was as if she literally re-wrote my mindset when it comes to serving her. Prior to this session I considered myself a devoted servant to Domina but after listening to it I realized I need to do more - much more. I recommend this session to all true submissives that wish to dedicate their service to Domina Shelle - you will be making a very wise decision that will expand your notions of devotion and obedience.
Tuesday, 23 May 2017
This file delivers what it's title suggests. It helps you to reach a deeper servitude with out beloved Princess... It creates a very pleasant surrounding and helps you to achieve what you want... 5-Stars
More reviews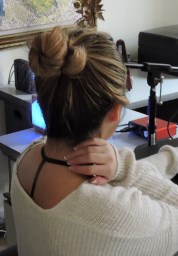 Get Updated