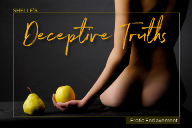 --- Listen to the Sample ---

I love My NEW word, SWICKED...Hummm, Sweet and WICKED!  Wicked and SMART...you're in real trouble.
This week, My pet, it's just you and Me and finally W/we get a little time together, all alone.  I mean O/our sexy fun time with My doing what you already want Me to do...Deceptive TRUTH...SEXY, Provocative, alluring and most WICKED...oh, playful and a MIND TEASE!  A mindfucking persuasion.  Don't let Me mislead you.  It's very much O/our story as I explain the truth in a very WICKED way...I LOVE teaching you, by showing you...especially in O/our Dom-slave relationship.  you trust Me to do what is best for YOU.  So, there is nothing to fear.  I won't make you do anything you don't want to do.  Oh and you won't be begging Me to, well you know...just wait and see.
I love alluring you with arousing thoughts and suggestions that you can NOT resist...no one could.  I give you so many choices...so many ways to...oh wait, don't want to give too much away.  But, don't worry, you are free to choose what you want to do and what you don't want to do.  It's all up to you, My puppy.  I won't be tricking you into any decision, but just explaining everything and making a full disclosure about every choice you have.  you decide.  In fact, I REALLY have to be persuaded to accept all that you want, are you good at PERSUASION.  So many things, so many ways...all the ways, My baby.
Now, My slave, listen to this session for the next 3 days or how about all week long... And don't forget your purple maker assignment.  you will soon understand.
If you still have a decision to make you will have to beg Me for a Collaring or a Slave Contract.  Or both.  I'll be waiting for your PERSUASION.
CHALLENGE TO PLEASE
Now is a good time to remind you the BEST way to please Me.  All contributions you make to Challenge To PLEASE will help Me with the additional $3400 I need this year to reach the goal for My retirement fund.  There are 5 weeks left.  you have always come through when I've needed you.  THANK you My loyal and DEVOTED slave...I do hate TAX season...don't you.
UPDATE
I had a spectacular photo shoot.  My best pictures will be available soon.  My plan is to drive you CRAZY about Me.
Contracted, I have posted a new SFS slave story:  Sissy rose Handmaiden Story.  Thank you, rose, for wanting to take care of your Domina.  Video shoot REDO moved to NEXT week.
NEXT WEEK
Next week may be Re-Form School with Class #8, when I teach you all about CHASTITY.  There will also be a Required 7 Day CHASTITY Assignment.  With that I will also have a special session for My sissy slaves.  Or Dopamine Part 2...I'll surprise you. Giggles!!!!
Check out special deals ...