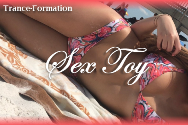 Are you enjoying the summer, My pet?  Here still on the beach...My vacation, which you made such a fabulous one for Me.  And in return, you might want to find a quiet cool place for this week's Tranceformation--Sex Toy.  Damn it's hot!!!!  I mean, crawl over here and taste My sweat.  This will make a lasting impression.  Long into the future you will be thinking back and re-listening to My Conversion instructions ....your dreams are cumming TRUE!
Just what does being My sex toy mean?  you'll have to listen.
Owned and Used....used as My sexxxx TOY....in and out!  Giggles***
ON, AUGUST 15TH...for your release this month, you will be using SEX TOY.  Prepare for your CONVERSION... Just follow My instructions to their Explosive conclusion.  Looking forward to hearing you beg...That's what makes My pus*y wet.
UPDATES
So many thanks for all you did for Me for My birthday.  you love Me!  I know you were thrilled with My gifts to you.  If you have not received a THANK YOU...I have gifts waiting at the PO....and well, I'm on the beach.
OMG, wait until you hear about the house being hit by lightning.
Update on the New website (tributes for the site are welcome, cost is about 8K) ....I have NEW CONTRACT...with a GREAT company!!!  It will be amazing, ROLLING out the NEW MEMBERSHIP site all at the same time.  WOW!!!!!!!
NEXT WEEK
Professor Shelle, is expecting your mandatory attendance for Classroom 2, or you'll get a spanking with My ruler.  And for those turned on by that prospect, you come to class for your spanking, over My knee!
Check out special deals ...