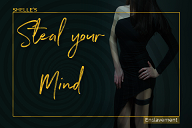 My puppy, this week's Steal your Mind session will be a POWERFUL kick-off to the New Year. It's not larceny, since I already Own your mind. Right? As difficult as this past year has been around the world, O/our remarkable Dom/slave relationship has strengthened and helped make U/us more committed to each other and gotten U/us through last year. W/we are closer than W/we have ever been, more loving and intimate with each other. The more you listened to My voice in My Erotic World, the more obedient and aroused you were, the better you were able to overcome those harsh realities and live O/our lives and erotic reality together. you have accepted all My words as your commands. Just as it should be.
Now for the future....With this session I bring you into a very deep induction for Total surrender to My slave training. I will help guide you and define you. I know what you need. Being Mine makes everything worthwhile. you want to be what I want you to be for Me and I spell it out for you, My baby. you will look back to this session through this coming year to help you succeed in your role of serving Me, a role that will bring you happiness, security and fulfillment. I am satisfying all your submissive needs to serve, please and obey without hesitation or resistance to My power over you. I will alway be your Absolute Authority with your need to take care that My needs are met. I am to be pleased and you are to please. SNAP!
HAPPY NEW YEAR
W/we continued with O/our New Year's Eve traditions yesterday from Day 8 of My 12 Days of Christmas. 2021 will be a joyful year with O/our Dom-slave relationship growing more meaningful and beneficial in all ways. you remembered your Domina with your last thought of 2020 and at Midnight lifted a glass to Me and blew Me a kiss. With your first thought of 2021 you embrace being a slave to Domina Shelle. I am your addiction and ​your desire. Email Me or TEXT Me, to celebrate O/our remarkable relationship. HAPPY NEW YEAR!
I want to thank you for your Love, Devotion and spoiling Me with all your Christmas gifts. your emotional support was so important to Me. This was My hardest working year as your Domina, with more nursing days and added responsibilities at home with family and you really came through for Me.... and for O/our Adopted family. I'm proud of your generous heart and to call you MINE! If you didn't get My personal thank you, contact Me with what you sent.
DOWNLOAD My New Year Holiday message. you are so important to Me. I've been very moved by how much love and devotion you have shown to your Domina, making Me feel like the Princess I've always imagined to be. ~giggles~
UPDATES
Covid is running rampant just as the vaccine is coming, so it is most important to be careful and cautious. It won't be too much longer, but I'm telling you, because I see it every day, you do not want to get sick. To help you, I have Month 10 Wellness CHALLENGE. Follow all MY RULES!
Lady Helena sends Her greetings. Like Me, She has been very busy with Her other work responsibilities. On Her blog She sends Holiday greetings.
you can see from My Twitter pictures you made a very happy Christmas for O/our adopted family.
NEXT WEEK
Have you heard of the Stockholm Syndrome? Next week you'll live it and enter your inescapable new life with Me.
Also next week, I expect Lady Helena to have several new recordings for you.
Come check My special deals ---

PS. If you still have money jiggling in your pocket looking for a place to go, Haha, I have My Challenge To PLEASE as I start to save for My next retirement contribution.