My fortunate enslaved puppy, are you still thinking PURPLE (Powerful Uninhibited Reprogramming Progressively Leading to Enslavement)?  you must obey Mistress Shelle.  Are you feeling closer to Me, more under My control, at MY disposal?  Perrrrfect!  I am training you to be My very good boy (or My sissy girl).  It's funny to Me that as you listen to My voice, sometimes you are completely unaware of what is really happening inside that brain of yours.  Take for instance this week...oh, sure you will absolutely love this session...you will be so enthralled and mind fucked, you won't have a clue...you will never tire of listening to the session, it does something to you.  Pulls you in, wraps you up with Me in the center of your brain.  I always say, I have the best ROYAL seat in the house, from here I see it all. ~~~Giggles~~~I LOVE THIS SESSION!!!!  ONE OF MY BEST!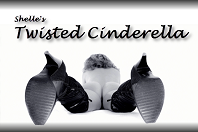 you have heard of Cinderella and the glass shoe...Just wait until you experience My very HYPNOTIC VERSION.  Follow My voice to a place where your fantasies and dreams all meet...playful eroticism and an ENCHANTING fairy tale of Cinderella, but not the one you recall as a little boy.  Instead meet her alter ego, the TWISTED Cinderella.  The true untold story that will fill your dreams and captivate your vulnerable mind night after night, giving you nightmares of pure pleasure.  Yes, in this week's TWISTED Cinderella Story, I put just a little twist on Princess Cinderella and her intentions, and an ever so slightly different happy ending.
Well, maybe not so slightly.  But I guarantee, you'll prefer MY version of what I do to you and how I do it.  Again, My prey, you will be brainwashed, then ensnared in My wicked web and enslaved with a MOST arousing addiction.  I know how to get what I want....... Forever is a long time.....All your dreams and fantasies cumming true.
SPOILER:  SEXY Leather Boots~~~Giggles~~~
ASSIGNMENT
I have this assignment, once I dismiss you from class.  you are to take Me along with you and a friend or partner on an adventure in your hometown, Summer Fun 2018.  Remember a similar assignment several years ago? What makes O/our relationship more real and meaningful is how seamlessly you are able to integrate Me into your day to day life.  And O/our file sessions together become more personal and intimate.  you need Me in your life.  I bring joy and purpose to you by having this lifelong adventure of arousal and pleasure in servitude and enslavement to your Domina.  Do this assignment and realize how much I have improved your life, which is what I want for you, My obedient slave.  you may take your time doing this until the time is right, but just do it!
I'll be sharing My adventures later this SUMMER too!
UPDATES
It was quite a pleasurable experience getting all your emails begging Me for My permission.  I actually slid My fingers into the side of My shorts and underneath My panties as I was reading...GREAT PLEASURES!  I'm very proud how well you've learned My training lessons.
Right now, I have you scheduled for orgasm release on the 1st of the month, after listening to Chemical Sedation and then on the 15th of each month with Puppeteer.  Soon, when I think you are ready, I will be offering My expert expanded orgasm management skills.  Follow My instructions and BEG for RELEASE...you know how I love that.  I own your c*ck, I can tell you when and how to use it. ~~~GIGGLES~~~
Check out the new/old story on SFS...your story is in the works, time is working against Me this week.  "Some slave stories make Me out as a harsh Mistress.  I kind of like it. Sometimes I'm too sweet and soft on you." ~giggles~
NEXT WEEK
Back to SCHOOL!  For your SUMMER classes with Professor Shelle.
I also have an exciting audio book I recorded from one of My sissy slave stories.  A personal story of mental and physical transformation from a man to the desired state of womanhood.
My special deals ...