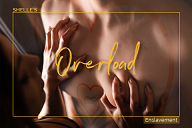 The last few weeks with My training and conditioning sessions I've been deep in your mind helping you to relax, submit, and obey every word I say. The focus has been on My control of your subconscious and conscious mind...of your thoughts, feelings and desires with your Domina at the center of your world… and helping you understand and manage your role as My slave to be what I want you to be for Me.
These next two week the focus turns to your body, specifically your SEX/c*ck or I should say, My c*ck and your need for My control of it. your sexual arousal is one reason you are My slave and these sessions are critical for your role as My slave. Overload welcomes you to FANTASY WEEK and provides another important aspect of your enslavement and servitude to the Domina you Love, Honor and Obey. your sexual experiences and arousal always have Me as your fantasy. you seek My permission and dedicate your orgasm to Me as the source of all your pleasure.
For My sissy gurls, I have a special orgasmic Sissygasm Assignment for you to share in this Fantasy Week experience. Available Sunday. Find any sessions that you do not have for assignment in Special deals.
While I'm at the beach in the water, you'll be floating in an ocean of sexual pleasure and multiple releases, powerless to resist Me. Follow My instructions and use My New photos for additional stimulation and a more sensual, memorable experience. Oh, what I am going to do to you!
Chastity slave, I give you permission to participate and follow My instructions to the extent that fulfills your need to obey Me or choose to follow your need to sacrifice (and edge only) your orgasms in the arousal of continued obedience to remaining chaste for your Domina.
Next week I will be providing a review of My specific tribute rules and instructions for My c*ck control. But in the meantime, while you are stroking for Me thinking of Me at the beach you will send Me your lunch money next week in gratitude for My permission to cum, to please and serve Me and to acknowledge your need for My orgasm control. I can treat My sister and her kids to lunch. Then, be a good boy and buy your Domina Dinner and feed Me oysters, which by the way, symbolized Aphrodite, the Goddess of love, pleasure, and sex. No wonder I love them so much. Yummy!
Contracted, integrate these activities with your SFS daily calendar instructions. The 15th is always a day of free permitted release for My VOLUNTEER contributors.
UPDATES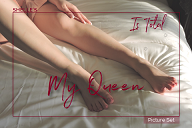 The sexy Photoshoot pictures are available in Shelle's Photos: My Queen Is Total ... just in time for O/our intimate sexual encounters this cumming week. For My Dress Me contributors, I will be able to send your gift when I get back from the beach...
With My voice issue you will have to wait until I'm back from the beach for newcomers to get My Welcome message. Promise...
In the meantime, here is an option. If you are NOT contracted and now know it may be time, contact Me after you have purchased My Slave Contract to have all your questions answered.
Sleeping Forest - Part 7 is in My Special Deals. you have reached your final destination. Thank you for coming along with your Princess through something I loved creating for you, My baby. Also in Special Deals are sessions you can also listen to while I'm at the beach thinking of Me.
NEXT WEEK In a follow up to this week, I have some Chastity Fire to increase the intensity of all your sexual arousals for Me.
Listen to sessions in special deals as you're thinking of Me at the beach...
PS... you have the option of doing the Extreme Slave Day Assignment.