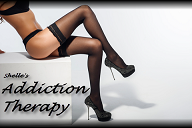 As I was recording the induction for this week's session Addiction Therapy, (oh and you will find it somewhat familiar), an incredible tingling sensation came over Me.  Very unusual...yes, like a drug.  I was in this amazing state of self hypnosis.  I couldn't feel My toes, My feet nor My legs.  I said to Myself, If recording the session takes me so deep...what will happen to My guinea pig, I mean My puppy.  I can ONLY imagine how powerful it will be for you.  As a precaution, put your medical emergency number on speed dial, just in case I can't bring you all the way back from getting lost in My sexy and intoxicating addiction.
Surrender all hope of recovery when I tease your mind, making it soft, brainwashed and captivated to submit and obey.  Spending all that time around My nyloned legs, aroused, moist and Hard for Me.....Always CUMMING back for more.  There is no sweeter and arousing addiction than feeling weak for your Domina.  When you are worshiping a powerful Goddess, you just crave to serve and obey as She commands you.
MAYBE next week, I'll have some pictures to show you some leg......covered in nylon and let you snap My garter belt.  I am sooooo good to you, My puppy.

FARM ASSIGNMENT
This is one Assignment that is great fun for both of U/us.  And now is a good time.  I'm going there to look after some needed renovations for the Farm.  With your daily contributions to The Farm Assignment (Now Available) you can help Me with My expenses flying down to get there.... It saves Me two days driving, and I just hate 12 long hours on the road.  you already know how much I appreciate your support, you are so good to your Domina.  Your Domina works so hard to make sure you are well TRAINED!  I need to feel taken care of, to feel secure...I love it when you make Me feel safe and guarded.
So, now I'll be on your mind every day as you get nice and sweaty working the Farm for Me.  I'll be keeping you hard and horny as you go through each day's assignment.  This time I've added an element of TRAINING to reinforce the pleasure of your "enslavement and servitude".  I will put your listening sessions for the Assignment in My Special deals, in case you don't already have those files.  So sexy, so many farm assignments.
For My Contracted your SFS Calendar will focus primarily on each day's Farm Assignment.
AUDIO BOOKS
I am excited about My re-branded category of Audio Books.  It's My voice reading you stories that are very edgy and extremely sexy.  There are no limits when it's storytelling time.  My NEW story is about O/our favorite Therapist and Her compliant client.....Well, you'll have to hear the story...
Now for the Challenge To PLEASE, thank you for your support.  The First Book has been recorded, so, if you make a contribution of $50 or more, I WILL BE SENDING YOU THIS FIRST AUDIO BOOK...NO NEED TO BUY IT.
UPDATES
What a great time at Hallows Scream with Lady Helena and My sister.  I decided not to go in costume, but next week with My Halloween session, something sexy might be appropriate.
One very important thing…. Lady Helena's BIRTHDAY is coming up on the 25th.... Take this perfect time to send a thoughtful gift. She is a TON of help to Me!!! She does so much for you and you may wish Her a Happy Birthday with a personal call or text, that would put Her in such a good mood to do something special for you. ~giggles~ Let's show how much W/we appreciate Her.
I know that I mentioned that I'm going to only 2 sessions a month...I am still working out those details.  I want to do what's best for you and U/us.  So, you can look for that SOON.  I can give you more training time per session... So, it allows you to have more time with Me.  Then, I can spend that time with you "experimenting" with new and fresh techniques.  So, this should work well for both of U/us.
NEXT WEEK
I can hear Halloween fright off in the distance.  In the tradition of Halloween and Dracula, I'll have a story of seduction and enslavement.  Will it be a trick or a treat?
Check these special deals...some 50% off...