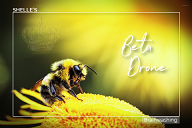 I am feeling so refreshed from My time away at the beach. Thanks for the contributions you made to give Me this needed fun and rest time. Everything looks so good for O/our future together with My revised shift schedule at the hospital. A perfect time to focus on the very core of O/our Dom-slave relationship.
Alpha, beta are the first two letters of the Greek alphabet. They have come to accurately describe the Dominant ALPHA Female and the submissive beta male.
In this week's Beta Drone, I have you experiencing the meaning, the feelings, emotions and accompanying arousal of being My beta slave. It is part of the natural order. The Queen Bee is the perfect example and symbol of this natural order with Her male drones and female worker bees (My sissy drones), whose entire purpose and function during their lifespans are to serve and work for the benefit of the Queen Bee and maintain the proper functioning of Her beehive.
Being a submissive, a beta, is imprinted into your DNA to follow your Alpha Queen. This compulsion cannot be changed. It would be like fighting against yourself. your real needs, your PRIMAL needs are to obey Me in every way. you are a beta and by definition this means you must serve and obey your Alpha Queen Shelle.
To see Me pleased and content is the fundamental source of all your true happiness. you exist to provide for Me whatever I need whenever I need it. you are compelled to always protect and follow your Alpha. you cannot escape the natural order of life. And in return, I take care of My beta slaves by taking your submission and obedience and turning it into sexual Release! For My sissy drone, you can buy this session and as soon as the sissy edition is ready I will automatically send you that version.
UPDATES
I had such fun at the beach this week and want to thank you for sending Me. The timing and weather couldn't have been better so I stayed longer enjoying the beach, lobster and oysters you so generously provided for your Alpha Queen/Domina. I really needed the break.
Contracted, the new LOOK SFS is here. I love the header of your ALPHA Queen. And for anyone thinking of an ownership slave CONTRACT, contact Me to discuss it...
I'm still working on getting through your Valentine Assignment. I am enjoying reading your mailed hand written Mantras which give the words of your commitment and devotion real meaning. I am PROUD to own you.
NEXT WEEK you are in for some Mind Control with a loss of identity that only I can provide. I will also have the Month 12 of the Wellness Challenge to help keep you safe and healthy.
My special deals this week:
Pussy Obsession --
Hypnotized and obsessed by My Pussy...addicted to My Pussy...
Collar Me Hard --
What would you give to be TAKEN even further into submission to a point where our relation transcends time?