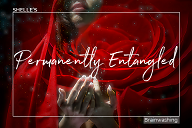 Aww, look at you, My baby. Do you feel a bit drained from the excitement of the last two weeks? I have allowed you to release and now I know what you need. I'll give it to you with this week with Permanently Entangled...in your bonds of Servitude to Me. you need more brainwashing. you have missed MY STRICT and POWERFUL brainwashing. This is going to really fuck you up...Oh My, just anticipating that arouses you, doesn't it? After all, I am your Pleasure, now at the center of all your sexual fantasies and desires. Yummy!
But, there is also a lesson here. Servitude is Service, Definition "SERVICE": The action of helping or doing work for someone...to help, be used, to benefit... the work performed by one that serves. you now think of Me all the time and hear My sweet voice from My luscious lips when you drift off to sleep. I am the most exciting part of your day. Now, I am letting you look beyond just a submissive's concept of Domina, Mistress, Owner to the REAL Woman I am and what you can do for Her in your subservient existence to Me. you love Me. And love to get lost in Me. you find Me adorable which gives you the motivation to commit to being the best you can be for Me...to make My life better, make Me happy and to stay devoted to your Domina.
And W/we have never been closer. My control arouses you. you love being enslaved. your love, loyalty and devotion to serving Me has made you a very important part of My everyday life. I take care of you and your submissive needs and you understand that your purpose is to Serve to make My life better with your loving support, by taking care of My needs and that makes you happy and keeps you MINE, Permanently. Without your gifts of love and tributes this would not be possible.
UPDATES
What a fun week at home with lots of family visiting and lots of work. Kind of like this week's theme. You work HARD for Me and it's lots of fun...and more. ~giggles~
For contracted, I will be posting on your SFS calendar passages from Domina Shelle's slave HANDBOOK which can be also downloaded from the contracted website.
Contracted, I will also be sending you a message and your special training session for July.
And if you are NOT contracted, what are you waiting for? Slave Contract. Let's talk about it.
My welcome package to newcomers...I'm playing catch up on a few things with family visiting all last week. I am working on your welcome package and expect to send it out next week. I'm well worth the wait....
NEXT WEEK Are you ready for some summer school with an online conditioning and training session?
My special deals have changed:
Compromised - A Seductive Hoax --
BRAINWASHING---MIND FUCKING---and VERY SEXY play.
Mistress Of Minds --
Imprisoned within My world...be careful what you wish for...
Thank you for the amazing GIFTS this week. Money, diamonds and so much more...even jj food and treats. If you have sent a gift and I have not said thank you, please email Me.