I have to say I'm having a REAL PRINCESS hangover. Like I said last week: I still plan to live the life of a real Princess with you as My Knight in Shining Armor!!! I want My real LIFE!!! you will be both My Knight, serving your Mistress as My servant. This is the week for My contracted slave. W/we are into March which brings us the time of renewal with Spring.
So, let's renew the vows of devotion for O/our Dom-slave relationship with a Celebration of My Ownership over My subjects and slaves. I am so happy that I found you. Do you remember the first time W/we met? Remember when I warned you that you were going to fall so deep for Me? you shouldn't be misled by My sweet southern HYPNOTIC voice. I told you exactly what was going to happen. Now, look at you, listening to everything that I say to you. you are thinking of Me all the time now. I have become the center of your life here in O/our Erotic Hypnotic World, the place you want to be, alwaying trusting Me. It feels so good, doesn't it, to have Me as your obsession, the source of all your pleasure. I am your Absolute Authority, no one will ever control you like I do...I make you happy.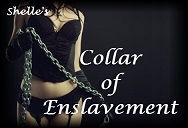 It's amazing how things are when W/we are together. W/we've come to depend on and care for each other. Like a ring is a symbol of commitment and obligation, your collar of ownership is O/our symbol. And, for those who are not so connected to Me, think about it. There is a certain elevated level of submission and obedience with the concept of collared ownership. And, that means a deeper, more significant arousal when your c*ck stiffens under MY control. This makes you want to do everything I tell you to do. And, that's what W/we are celebrating. Think about it with this Collar of Enslavement. Then email Me for further questions and information.
UPDATES
The biggest news of the day, of course, is the celebration of My BIRTHDAY, August 5th by declaring it National Oyster Day!! YIPPEE! My favorite. The food for lovers. And you can look that up. HaHa!
Oh, and the storms! Love those thunderstorms.
I have been in Tennessee this week with My sister still in rehab. You have been very helpful and supportive. I have to start putting together My retirement contribution for My taxes in the next several weeks. So, you will be able to help your Domina by sending what you can to My Challenge to PLEASE. And, I know how much you love to please Me and feel that tingle when you do. ~giggles~
Contracted, your SPECIAL GIFT /this month's training session will be in your e-mailbox once I get settled in back at home…Thank you, for all you do to make My life better. This means EVERYTHING to Me. Thank you for your monthly love GIFTS. Awww, you wuv your Domina!
And, for My finslave, I will be sending you an offer you can't refuse. I'm giving you a great opportunity that will get you very excited. Watch your email.
NEXT WEEK
Next week I have a special session that will clear away all possible obstacles that may be keeping you from your destiny as My OBEDIENT knight and servant. And, I can guarantee it will be very, very exciting.
Take a look at something you missed the first time in special deals:
Seduction Trap --
I'll find your weakness, lure you in, you make it almost too easy...
Unsuspecting Curse --
Powerful REMASTERED version of "Unsuspecting Curse".
Wet Dreams --
This session may cause Sleep Paralysis and Permanent Wet Dreams.
Collar Of Enslavement --
Experience what it would be like to be a helpless and submissive slave...