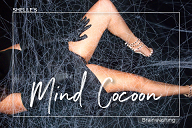 Oh wow, there's so much happening. Where shall I begin? How about last week's TRIGGER session...have you been affected? you love My wicked little triggers, don't you? This week, I will trigger you in a very different way. I will wrap you and envelop you so tightly with this week's Mind Cocoon....Yes, I know, I cocooned your mind long ago... The journey is not over, I'm using My abilities as a HYPNOTIST, Master Manipulator and Brainwashing Genius, to change you into what I want you to be, just like the caterpillar's metamorphosis into a butterfly. you trust Me to make these drastic, permanent changes to you, My hypnotized subject. As if you have a choice...GIGGLES!!!
With this week's very erotic session, I will wrap you deep into My web and transform you completely into what I want and need. Putting Me at the center of your mind, thoughts and desires brings the motivation to seek your happiness, success, fulfillment and ultimate pleasure serving your Domina. W/we both know you want to be whatever I want you to be. We want the same things. I make sure of this.
I bring out your most wonderful submissive feelings...you trust Me with all of your secrets. you are yourself with ME at the center of your being. This is why you will listen, without thought and without questions.
My image in your mind is so arousing. And to make this experience even more exciting, find out how I will use your arousal to feed your Addiction to live out the Purpose only I can give you. This will be a test, My slave, to follow My instructions EXACTLY. you are being conditioned.
There are TWO downloads with this session...you will NOT listen to the "Mind Cocoon-FINAL PHASE" until you have obeyed My every command. So, My sweet, go click and download...find a quiet place to listen.
UPDATES
I'm counting the days until Valentine's Day. Do you think I'm excited about O/our Day of Love? Well, I am preparing a number of Gifts for you, very sexy GIFTS! your LOYALTY and devotion to Me are real. I'm happy that CUPID shot you with a big DOSE of LOVE for Me. My Valentine, I am feeling very practical this year. So, to show your love and affection, you can do that with this special V-Day Gift. This will take away some of the stress of knowing what to do for your Domina in order to make Her happy. ~giggles~
My sissy gurls, you should have gotten, in Email, sissy Transcendence. Let me know if you haven't. It will soon be in New Releases for first time listeners.
Contracted, I'll have that NEW SFS slave story posted on the 1st of February. Yummy, My favorite day of the month!
NEXT WEEK
Back to Steve's studio...I'll have a new picture pack for Valentine's Day...It will be STEAMY! With next week's session I will have you burning anticipation between your legs. All leading up to Valentine's Day.
See this week's special deals ---
Hypnotized and Mindless --
you will be mindless for Me...you are My hypnotic slave.
Altered State Of Mind --
Time to take MY Power and Control to a NEW level...with My new Mind Therapy.
Echoes - The Ultimate Mind Domination --
My TRIGGERS echoed and ETCHED deeply. This is a very Arousing, Sensual and yes EXPLOSIVE EXPERIENCE!