Shall I continue this week as the Fix for your addiction.  Have you thought about quitting or just not listening...Do you think it is that easy...Giggles!  There is NO stopping, you can't stop.  Just like NOW, all you can think about is another trip into the DARK room.  Even if you can't remember what happened the first visits.
Here you are, ready to hold My hand for that fall.  I knew you'd like that, especially when I'm taking you on a new path, deep into the DARK ROOM--Warped Mind.  Face it, it's one of your very favorite places in My world of control, mental enslavement and pleasure to listen and surrender to My soothing voice and power.  My words and commands are so irresistible when you discover there is so much pleasure in My power over you.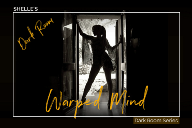 --- Listen to a Sample ---
In My dark room you are powerless to resist Me even if you wanted to.  your submissive simply craves Me more, needing to feel My power and control making you so hard and desperate to please Me by strictly following My instructions.  I'll let you cum to your own conclusions when you piece the puzzle together.
What is clear is the pleasure of obedience to My power and the pleasure of pleasing Me.  Stroke Tribute.  And when you do, know it strengthens My hold over you and your arousal, giving you pleasure in your addiction for Me.  you can't deny that I am always your FIX.
CHALLENGE TO PLEASE
With your generous contributions Challenge To PLEASE, W/we are moving closer to My annual goal to secure My future with just 2 weeks to go.  I am so good for you and so good to you.  Remember that at the special moment in My DARK ROOM. ~giggles~
UPDATES
I've been getting your MANAGEMENT emails and saving them.  I know you have a compelling need to submit to Me.  I've decided to use the April Re-Form School Class #9 to outline My plan for providing more direct and personal control and management over activities you need and want My direction and instructions.
Contracted, remember your permission for release with your monthly obligation.  I know that sacrificing is sometimes your choice.  I'll allow you to beg at My sexy feet....see, I always know what you need.
NEXT WEEK
Just wait and see….I always have a plan.
Check out special deals ...