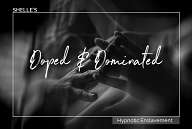 My voice is so POWERFUL to you NOW.  your mind DRUGGED and manipulated...just the way I LOVE it.  you are conditioned to relax and open up when you listen to My voice.  My words are growing STRONGER and STRONGER every time you listen.  you simply let go of all your stress and worries when you enter My hypnotic erotic world of Brainwashing and Mind Control.  Silly hypnotized pet, you give in to your submission and obedience without even recognizing what has happened and you fall into that TRAP again...so many times you were warned.  But, you can't say NO, you can't stop.  How could you...and with this week's session Doped and Dominated, you eagerly LISTEN and become completely dependent on My directions and control.  It's impossible to try to resist now that I've tightened My hold on you, as your obsession and the source of all your pleasure.
Can you resist one more dose...Of course you can't...My perfectly addicted servant you will have to listen, won't you?
LISTEN and kneel, some surprises.
This session is your COMPULSION.  you'll do as you are told, My puppy, HARD with the Pleasure only My voice and words can give you.
VOLUNTEER ASSIGNMENT
I can't say enough about how important your Volunteer contributions have become to Me.  I am really depending on you and your generosity in taking care of your Domina in this way.  In My mind it strengthens the bonds that make O/our relationship so unique, mutually beneficial and powerful.  you and your loyal devotion is cherished.  I give you ME.  Yes, you have Me and I am your gift...I give you so much desire and PLEASURE!  I take very good care of you.
UPDATES
I bet you are sick and tired of hearing about the craziness...but, it really looks like TOMORROW is the final touches and it will finally be done.  Funny thing the contractor said today and I quote "I think I should stay until the 21st, this way I have been here for all four seasons".  I told him that I would forgive him for not staying, haha.  So, if you do not hear Me talk about the house, well you know that he is GONE!
Thank you so much for My sweet gifts...If I have not told you THANK YOU, email Me.  I have no names on a few things.  I love being SPOILED!
Video Shoot, coming as soon as things fall back into place.  I'm finally getting back on track...We will have LOTS to do together...some sexy changes.
Check My special deals:
Power of Hypnotic Control --
Be My brainwashed HYPNOTIZED guinea pig...I will experiment again inside your brain...
Brain Drain --
This MP3 will have you drained of all thoughts and trained to be MY goodboy.