Next week, I will have a powerful mythical story to tell you. But I am taking a break from a new session this week, so W/we can talk about U/us. After Loctober and reading your JOURNALS, those who sent them to Me, I know how much I have you all wrapped up, so close to Me. My voice and words, My sensual legs and the imagery I implant into your weak and suggestible mind will keep you MINE, always. you have integrated Me into your everyday activities. I have given you energy to be the best you can be at home and at work and for Me, of course. Giggles.
I am using your addiction and arousal to bring you to a more powerful level of enslavement to your Domina, fulfilling your destiny of living a life in service to your Princess Shelle as My beloved contracted slave...to LOVE, HONOR AND OBEY by caring for My needs as I care for yours. you need Me.... and I need you. Like a good marriage, both parties have to work at keeping it thriving with love and devotion. In O/our Dom/slave relationship you continue to bring Me your selfless love and devotion, your submission and Obedience all to please Me and make Me happy with you. And in return, I work hard and "commit to you My caring and My love. I will provide many varied opportunities to meet your needs and create files that extend My control and deepen your enslavement." I will always be there to take care of you, My aroused slave.
One opportunity I am offering is for those Not already committed to Me as "contracted" to take a look at My slave Contract. and email Me to go over any questions you have about it. Think HARD on this.
BLACK FRIDAY MONTH
This week with no NEW session, I want you to spend that money on My daily Black Friday Special Deals. There is a different discounted session every day for that one day only. I want you to fill your library so when I call on you to listen to a particular session, you'll already have it at a deeply discounted price. By now you know I have a plan to Train, Condition and INDOCTRINATE your helpless mind into what I want you to be for Me. So, My sessions are planned with that purpose.
Now come back every day. This is your chance to spend time listening to My BLACK FRIDAY special and satisfy your addiction for Me at the same time. you are being subliminally conditioned to become more and more dependent on your Domina, because your need for Me keeps growing, together with your Obsession and addiction. It's My voice and words that will fulfill your submissive needs and satisfy all your cravings and desires. So, listen to each new Session I choose to put on Special that day, many of which you may already have.
Just in case you missed it, here is a link to the Black Friday Month blog entry which explains everything, plus My Chastity Challenge. Chastity slave, no matter how provoking a session is or My New picture pack, you will not c*m during November. Haha...Mmm...is there a stroke tribute in your future? Giggles
UPDATES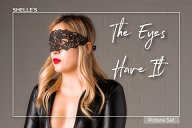 An exciting and arousing NEW Picture Pack--The Eyes Have It is now available--to have more of sexy Me to ignite your...you know what.....when you listen to My voice... and when you Mantra your devotion to LOVE, HONOR and OBEY. Last week it was My legs and Stockings, which are still in Special Deals. Have a pair you can slip onto My legs and feel the nylon, My slave. With the new pictures, I will be revealing something you've asked Me about for the longest time.... more of My face, so let Me fuel your addiction. I've added more stockings to My Wish List.
I am so pleased with the Chastity JOURNALS that I will start to use and share some of your thoughts. See if you recognized them.
NEXT WEEK My Eyes will capture and captivate you.....