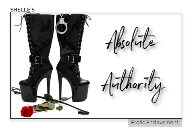 "ABSOLUTE" perfect, pure and complete without restriction or limit, with no implication of possible change.  "AUTHORITY" the power or right to give orders or make decisions and exercise control over others.  In this week's session, Absolute Authority, you will experience the meaning of those words.  My pet, W/we are the perfect fit.  Dominant and submissive.  you are not forced to submit and obey.  you willingly surrender to My Absolute Authority over you.  you crave it, because you know it's the TRUTH, it feels so right.  Plus, I will have you so deeply HYPNOTIZED and under My control, it won't matter.
I am the erotic and emotional focal point of your life.  you recognize and succumb to the qualities in your Domina for exercising My Authority.  Dominant, seductive, controlling, demanding.  And you know the qualities in yourself that make you aroused, receptive and eager to obey.  Suggestible, submissive, weak, and powerless.  you will find your feelings growing more in love with Me, more submissive to your Domina's expectations of you and more addicted to serving Me because I am your Authority and you are My slave.  Sounds arousing for both of U/us. ~giggles~
UPDATES
Challenge To PLEASE has become the way you can help your Domina meet the cost of My current financial priority, recently My Retirement fund.  As you know, there has been major renovations at My house.  A NIGHTMARE!  you've heard Me complain about the noise and living in a construction zone. ~giggles~  Now it's in the plan, that My daddy will be moving back to the Farm near Memphis...I can't wait to get back there Myself, I'll keep you updated.  I have HUGE expenses that are part of My responsibility.  This is what My Challenge to PLEASE is all about...your contributions will really make a difference and of course this makes Me happy and it feels so good to have you doing My bidding.  you make Me feel like a princess.  I'm so good to you, I allow you to be involved in a very important part of My life.  Thank you for your LOVE and SUPPORT!
Sissygasm--HypnoClitty was delayed being posted.  Look for it in New Releases in case you missed it.
MANAGEMENT SERVICES
And here is how I will become an even bigger part of your life.  I'm still evaluating the best options to make "Shelle's Services" as beneficial to both of U/us as possible.  I am collecting ideas from your School Assignments.  So, more about that soon.
Sunday is MOTHER'S DAY.  Show your Mother and all the SPECIAL MOTHERS in your life your love and appreciation.  We will be remembering Our Mother.  We are having a special brunch in her memory.  She was amazing...I had the most amazing dream of her last night.  She was in a LONG flowing gown, it was a soft rose color.  We were holding each other and I was telling her that she looked BEAUTIFUL.  Don't miss out on these moments if you are fortunate enough to have your mother.
NEXT WEEK
you thought you had everything set and knew your priorities, but a wicked Thief took it all away and gives you what you really desire.
My special deals this week:
ERUPTION --
She will mentally and emotionally destroy your will, then She will devour your mind and heart ...
Blind Dominance --
your subliminal mind will be overdosed with brainwashing.  I will toy with your lust and leave you feeding off of My control....
Hypnotic Seductress--Succubus --
If you had to make a choice between Sweet and Wicked, what would you choose?????