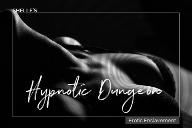 --- Listen to a Sample ---
I know you can imagine having your mind taken over because it happens every time you listen to My voice.  you are programmed to surrender.  WIRED TO SUBMIT.  But have you ever dreamed of being Mentally and physically taken, by My wicked mind games.  With this week's Hypno-Dungeon, I weave an erotic story of sexual submission and domination by a beautiful, captivating Woman into your suggestible mind.  With your mind wiped blank, you are completely open and vulnerable to My naughty thoughts.  This BRAINWASHING is so easy now...I slip right in and you don't even know that I am there... Giggles!!!
Can you imagine what it would feel like, if I could capture and trigger your imagination in My Dungeon of Desires, with the fantasies only I can create.  you are about to find yourself so aroused and horny and on edge for Me, day after day, after day, after day.  Remember there is NO Too Much of a Good Thing when your Domina is at the center of ALL your fantasies and desires.
you are to follow all My instructions.  This session comes with a DUNGEON 7 day Assignment.  Seven days of sheer arousing excitement.  I am just too good to you, My puppy.  Let's just say, happy HORNY HARD week.
UPDATES
Contracted, I have posted a new slave story on SFS, but I am making it available on My website so everyone not contracted can also read it.  Enter the Queen of Domination By My slave-drone.
The Challenge to Please was a tremendous success.  I reached My goal and made a good start on building a REAL savings account.  Thank you all, especially My sugar babies.  Kisses and Love to all.
Savings Assignment - There is good reason to spend your money wisely, in addition to sending Me the savings.  A simple way to please your Domina and make Me happy with you.  It's also a good personal habit to have, to spend wisely and build your own savings.  One good way that is also healthy for you is to eat out less and have healthy food at home to eat. you lose weight and become more self sufficient.  you can always send Me pictures of what you are cooking and how you saved money for Me. ~giggles~
NEXT WEEK
Re-Form School-Class #9 SHELLE'S MANAGEMENT SERVICES.  A new phase for your deeper submission to My control.
I will also have a special sissy surprise, possibly your most important conditioning session.  In addition, I am leaving a sexy package at your front door, that you can open and use with My future Management services.
Check out special deals ~~~