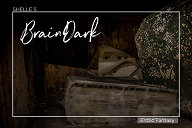 As winter gets near the days get shorter and shorter, darker and darker. I have a very special conditioning session for you this week. Just read the file description, download and listen. I want you to get cozy and put on your headphones as I whisper in your ear and bring you into the mysterious darkness with BrainDark. Don't look so worried, My sweet. I will calm you down. Just embrace the need you have to let go for Me as I take you deeper and deeper and focus on My magical pendant.,, your mind going empty and dark....you have a very exciting and arousing journey ahead of you. I will make you weaker for Me beyond your imagination.
I will take hold of your.... and fill you with desire, craving Me more and more. I will consume every essence of you and make you My slave, forever. Every session has a purpose, My love slave....to bring you closer to Me, make you more submissive and obedient and make you MINE with your surrender and dependence on Me more absolute. I want all of you and will manipulate and use your arousal so you will do anything for Me and more. And this is perfect timing with the Christmas giving season here. ~giggles~ So as you reach the end of your journey think of what you can do for your Domina for Christmas! Say, Thank You, Domina. I know. I really am too good to you, My sex toy, teasing you like this into complete subservience.
CHRISTMAS PRESENTS
Santa Shelle is busy in Her workshop getting presents for all Her good boys and girls. Are you ready for Christmas? And Santa Shelle just loves getting presents, too. So many wonderful presents already. The dining room table is full of lovely goodies. Yippee! Right now I'm set for a winter getaway to the beach. So My priority for the next two weeks will be My Challenge to PLEASE. A well appreciated present, My sweet. OK. you can always Spoil Me, if you must.
Contracted, one of your presents is in the SFS calendar. Watch emails with a VERY SPECIAL GIFT next week.
UPDATE
you made Me very happy helping Me with O/our Christmas family. I gave the mom lots and lots of gift cards so she could plan ahead and get all her kids a very Merry Christmas, thanks to you. I shared with her how I have a social media following, nothing specific of course, and how generous you have been. Thanks, again.
I am feeling better, but have a lingering cough. Good thing I have lots of new sessions already recorded for you, My pet.
NEXT WEEK Christmas will be all around U/us and Santa Shelle is on Her way.
My special deals have changed:
Blind Dominance --
I will toy with your lust and leave you feeding off of My control...
Queen Of Hearts --
A MYSTERIOUS mind numbing file...intense...mystical and erotic.
Tricked Into Trance --
Why don't you try NOT to TRANCE?