Feel My power like never before.  I am on a mission, irreversible training.  I know what you need...I NOW DEMONSTRATE MY POWER!  Each time you listen to this week's file session, Exploited, you will feel My control getting tighter and tighter like an anaconda coiling around you, squeezing you HARD.  Unable to escape, feel yourself brainwashed...MIND FUCKED.  THIS is your COMPULSION.  you will LISTEN!  DO NOT HESITATE!  OBEY ME....prove your SUBMISSION NOW!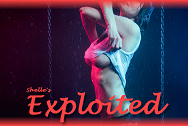 HAPPY 4TH OF JULY
Here in the USA this is one of the biggest holidays of the year.  Lots of fireworks.  Philadelphia is considered the birthplace of Our nation because of the signing of the Declaration of Independence.  I'm going to spend the 4th WORKING at the hospital...hehe, one day you will win the lottery and I will never work another day again....giggles......LOL....but eating BBQ and never forgetting where I come from.  Let's celebrate!!!!!  INDEPENDENCE DAY!!!!
UPDATES AND NEXT WEEK
Next week, My mission continues with the tale of a Royal love story, a seductive young dancer and a lesson for you, My puppy.
Check My special deals ...
PS...My heart goes out to those facing hardships (families experiencing the effects of cancer, and hardships of HARD living circumstances)...and also to those of Us who have survived cancer.  Stay STRONG!!!!!!  Nurse Shelle knows best!  My heart is with you.