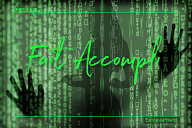 NOTE: This session -- Fait Accompli is a MASTERPIECE! It's perfect for EVERYONE. I'm playing for keeps. This is an experience that you will not soon forget. Please be aware, listening may change you and your behaviors.
I know that you are crazy for Me. I made you this way. ***GIGGLES*** you LOVE what I do to you and how I make you feel so....you know. This is who you truly are and who you want to be, simply captivated by your Domina, your Princess. you know the bliss of surrendering to Me. I satisfy all your needs, because your only need is to please Me and OBEY. My baby, what would you do without Me? Well, I bring you very good news with this week's Fait Accompli : Fait Accompli is a predetermined fate where you are powerless to change your destiny and, you may well ask, what is your destiny? Well, since you're reading this description it means you already want/ARE to be MINE, enslaved to My will forever! There is no escaping My Absolute Authority, I am a divine force that dominates and indoctrinates your mind, omnipresent in time and space. In this MP3 session, you'll discover just how pervasive My power is and how weak you are to resist My most seductive, hypnotic charms.
Prepare to settle in. Find a private place and fall deep for Me, after all this is your predestined future. you may feel as if you are in a movie, directed by Shelle Rivers. My sweet, I have manipulated you in the past and in the present. See what I do with your Future. I will empower you to achieve the FUTURE you have been craving... subjugating your will into TOTAL enslavement, submissive, obedient and aroused, serving your Domina.
My slave, Obey and listen now, as I guide your arousal. Cum follow My instructions and embrace your Future, reinforced by My Post hypnotic suggestions.... creating the self-fulfilling prophecy I want you to live for Me.
SISSY HALLOWEEN COSTUME CONTEST
I am changing the rules for this Contest. In consideration of privacy needs, I will NOT make this a public contest. I have decided to keep the sissy pictures for Myself. After some discussions, I understand It's very hard to put ourselves on display. I would never want to cause any stress for My gurls. Plus, I want to keep these pics for ME. My favorite pics will be REWARDED in private. Sissy gurls watch your email box. With this understanding you may still participate in the SISSY Costume Contest.
My PLEASURE Experiment was set up to identify what brings you the most or W/we can say, your favorite type of Pleasure. Remember the choices:
(Part 1) I Teased and toyed with you in Hypno Toy'd,
(Part 2) I kept you in Chastity for a full week,
(Part 3) I guided your release in the RIVER OF LUST.
PLEASURE through your submission and obedience to Me... Teased to stay hard and horny for Me in Chastity, serving and pleasing your Domina. And asking permission for your release and offering tribute.
And the results are: Calculating and RECOUNTING***Sound Familar***Guess the winner? Updates to be determined. I love making you wait. I'm playing with you...This may be too close to call.
NEXT WEEK I will trigger My Manchurian sleeper deep in your mind. It's sooo sexy. I can NOT tell you how MUCH I love WHITE NOISE.
See My special deals:
Sleep Manipulation --
I implant a permanent TRIGGER...making your resistance impossible!
Midnight Whispers --
I whisper hypnotic, mind fucking words into your ear...