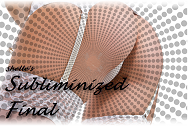 Oh My, what a FINAL CURTAIN, a GRANDE Finale to SUBLIMINIZED sessions--Subliminized-Final Focus (don't worry My subliminal messages will continue to be pushed into your brain)...This session brings it all together...a MIND blasting, MIND FUCK!  SEXY, intriguing and MYSTERIOUS.  Once again I push messages into your brain and you soak it up...Don't worry, soon it will all be tested.  Damn, My panties are wet....yummy.  Listen NOW, can you resist...NO, not anymore.
Challenge To Please has gone very well.  Thank you for the support you have given Me.  If you REALLY want to please Me, this is how.  I have 3 weeks to reach My retirement fund goal of $5500 for 2017.  I want you to "FOCUS" on the $1050 I still need to reach My goal.  This is the first time I've put money aside for My future.  It's about TIME!
MANAGED SAVINGS ASSIGNMENT
Family illness prevented Me from getting everything ready for last weekend.  Some things got delayed.  To bring you up to date…I have for you My Managed Savings Assignment.  I have put this link to My Assignments Page, so it's easier to find in the future. (It's also in new releases).  With Spending/Savings Assignment you work at your own pace.  you simply save money on things you buy and give it to Me.  Simple, isn't it?  What I said last week:  My pet, My first command is to Sign Up for My Managed Savings Assignment.  EVERYONE sign up for only $2, so I know who is participating and I have your email.
This is a good time to reintroduce the Volunteer Assignment if you haven't volunteered before.  Spoiling and pampering Me is what you will for.  With VOLUNTEER you make yourself available for Me to call on you for something I need.  you Please Me by doing My bidding.  I AM so good to you. ~giggles~
St. Patrick's Day
you don't have to be Irish to celebrate St. Patrick's Day.  Wear something green....Let's raise a toast to another stimulating year with your Domina.
UPDATES
I will have a NEW picture pack in My Pictures. They are a mix of unseen at home pictures and more from the Photo Shoot.  Last week, I was also delayed in making Dress Me available.  As I mentioned, I would appreciate your help in covering Photo Shoot and My new outfit expenses.  As MY reward you get special FREE PICTURES with My personal hands on instructions/COMMANDS.  Serving Domina is such a pleasurable release.
Just in case you missed it, I have put the Complete Chastity LOCKDOWN Program in Package Deals.  Experience something unexpectedly arousing you've missed out on.  Can you take a month of feeling too Hard and Horny, My puppy?  Following daily instructions?  Just Do It!
The first in the BOOK OF SHELLE series on SFS has been posted with one slave's uninhibited imagination.  Contracted be sure to read this story.  Get YOUR imagination, fantasies, fetishes working on what reflects YOU.  Starting next week, I'll have a SIGNUP to enter your story.  All will be posted.  Say what you are thinking, fantasizing about, what you wish for about your Domina and you.  Think about it as a Writing Assignment for your Domina.
Check this week's special deals:
Sexual Manipulation and Sacrifice --
you want to be manipulated and abused by your Domina.
Reflections in the Mind --
your next COMPULSION. Very powerful Brainwashing and Behavior Modification...MIND FUCKING...
Wicked Control --
I will cast MY wicked little SPELL...