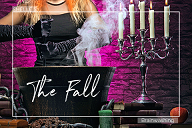 This week, My pet, I have TWO sessions in one special offer for you. That's right. Two full length sessions for a special low price. I know, I'm so good to you, slave. Just follow the yellow brick road, because you're off to see your Domina Shelle, the wonderful Wizard of Hypnosis. Does this also sound familiar? Seems like I've also seen this somewhere before: "I am a sweet and sometimes WICKED HYPNO-DOMME. I will take you before you realize what is happening and make you Mine. I want all control!".... I'm going to set you up for a deep, deep fall bringing you closer to the destiny of your deepest desires. I'll do this by having you listen to both sessions to experience your deepening servitude and obedience to Me, the first session at Level 1 and then with the Wicked Witch, even DEEPER taking you to Level 2.
Come to see your Domina now, and listen FIRST to THE FALL which takes you into a wonderful trance and brings you into the perfect state of servitude with that wonderful feeling of being so useful to Me. No obstacles for living in the natural order of things. Me, in dominance. you, in submission. Guess what this means for you? First of all, you will be mind fucked. I'll take your mind and your heart. Then... Well, listen and see. Such a blissful dream come true. It couldn't be more perfect.
Then the journey continues. Follow up by experiencing THE FALL - DEEPER This is where I play for keeps. This is the WICKED HYPNO-DOMME sending you deeper, again, into My web of Control, My endless abyss, where obedience is an automatic compulsion for you. The Wicked Witch's dungeon brings such pain and pleasure. But I make it feel sooo good. The cracking whip, the intense arousal.......you can thank Me now. Say, Thank You, WICKED HYPNO-DOMME. you're welcome, slave. I always get what I want...even if I am sneaky about how I'll do it.
UPDATES
I'm getting close to My goal for this year's Retirement contribution. I put money away now that builds for a financially secure future so I can retire and be the Princess I am destined to be. And your contributions to My Challenge to PLEASE make it all possible. And I appreciate that you also want to secure your future to Love Honor and Obey the Princess you are destined to serve as My Knight and servant! Isn't that right, sweetheart?
NEXT WEEK is MY week....this is when My LOYAL and DEVOTED show their LOVE and take care of Me in every way!
My special deals this week:
Hypno Toy'd --
Playing with My Hypno Toys is so wickedly fun...
Hypno Toy'd Sissy --
Come, My sissy slave Toy...
Depth of Servitude --
This session may TWIST your DESIRES...
Aural Mind Fuck --
good pets deserve to be praised and rewarded.