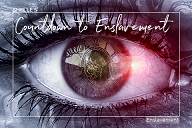 I am so pleased with you, My baby, and feel so sexy in all the new clothes you got for Me to wear. It's with this feeling that I'm going to take you so deep into trance with this week's Countdown to Enslavement. I want you to feel good about yourself and about your submission to Me. So, I am bringing you down and then down deeper, and again even deeper, you'll be mindfucked and hypnotized only by the numbers until I reach the deepest recesses of your mind, at the emotional and psychological core of who you are and bring you to a place of absolute submission, where you long to be. I will break down any leftover resistance for your complete surrender. This is your True self, that gives you motivation, purpose and desire bringing you True happiness and pleasure.
your enslavement to Me is very REAL. Think of this session as an explanation of your job description in living your life to LOVE, HONOR and OBEY only your Domina Shelle. you will permanently absorb My very clear instructions. Take this important next step on your journey into blissful submission which will reinforce your devotion, commitment and desire to be what I want you to be for Me.
Ever wonder why I remind you that: "you will always be MINE?" It's in My DNA to control, to Own, and in your DNA to be submissive, obey and be owned....The PERFECT match. Acknowledging the TRUTH of O/our relationship will set you free as you find new happiness in servitude, falling deeper into My world, infused with a passion to be forever MINE...to LOVE, HONOR and OBEY.
you will listen now out of PURE OBEDIENCE to Me.
UPDATES
PICTURES Everyone who contributed to Dress Up Domina Shelle for last week's Shopping trip should have gotten My exclusive pictures and JOI instructions for your reward and pleasure. Contact Me if you haven't. And it's not too late to contribute to Dress Me and receive My pictures and specific instructions.
Contracted, I am posting a new SFS slave story. Plus NEW pics coming soon to My photo gallery.
NEXT WEEK Next week W/we travel a long, long way and you will come back more MINE.
This week's special deals:
Blind Dominance --
your subliminal mind will be overdosed with brainwashing. I will toy with your lust and leave you feeding off of My control...
Sexual Transference --
Erotic attraction...extreme dependence. Trapped in My will.
Sissy Changeling --
The beginning of a soft SEXY journey of transformation and development to SISSY.