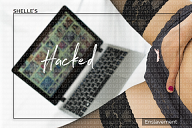 I am going to be in two places at the same time this week.  I'm so excited about My Birthday, it's less than a week and a half away.  I'm leaving for the beach this weekend for a very long overdue vacation.  Don't worry, I'll be here too.  I'd never leave you alone...and with this week's HACKED, you will also discover that I have invaded your mind.  you will find Me deep into your subconscious mind with My dominating presence.  you love My conditioning, having Me playing, manipulating, rearranging, confusing you and taking advantage of your weakness.  Weak and helpless, you will surrender your mind and body, submit and succumb to My seductions.
This session is amazing...it was a LOT of fun creating it.  I can't tell you more.  you must listen and BLINDLY trust what I am about to do to you.  I will tell you it's a MIND FUCK!


HAPPY BIRTHDAY
Happy Birthday to Me!  you know that this is a very important time of year for your Domina, like Christmas and Valentine's Day.  This is your opportunity to show Me just how special and important I am to you...time for you to put your service and devotion into action.  Send Me to the beach for My Birthday with Challenge To PLEASE.  By contributing to My expenses for this week at the beach with Lady Helena and family, you will be doing something VERY special for Me for My birthday.  Know I appreciate everything you do to take care of My needs.
Be sure to follow Me on Twitter to keep Me company while I am sunning and tanning My body at the beach next week.  I'll be sending beach updates and pictures of My sexy body and giving you My instructions while I'm away.  I'll be eating oysters and thinking of you, My pet.  Delicious.....
UPDATES
I'm working on getting My EXPERIMENT just right, so it should be available in two weeks.  Be sure to review this week's session or buy Me lunch on Mondays.  That's O/our deal.
An amazing new story on SFS...This one will push all your limits.
NEXT WEEK
School will be in session.  Learn your ABC's of being My best slave.  For now, B is for Birthday presents. ~giggles~
My special deals this week ~~~
Snapped --
Sexy Trigger training by Domina Shelle.
Echoes - The Ultimate Mind Domination --
My TRIGGERS echoed and ETCHED deeply.  This is a very Arousing, Sensual and yes, EXPLOSIVE EXPERIENCE!