At last.... The very best time of year.  Yippeee... My BIRTHDAY and a well earned vacation.  I'll be at the beach from 8/4 to 8/11 for My birthday on the 5th with My sisters, family and Lady Helena.  you'll find Me with a bucket of OYSTERS and a juicy LOBSTER.  I know you'll be missing Me, so I have special plans to take care of you, My puppy.  This week's Behavioral Conditioning session will relieve any separation anxiety you might be suffering, while I'm away.  There are so many ways for U/us to be close this week and always.  Oh, you will LOVE this session...It is perfect.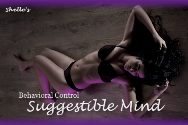 BIRTHDAY THANKS.  you have really made Me happy with your generosity for My Birthday vacation.  W/we all know how good it feels to be appreciated.  I'm very excited to have this FREE time to really enjoy some things I like to do with family and Lady H.  Just think, NO HOSPITAL SHIFTS.  YIPPEE....REST and FUN.  Don't worry, I'll be in touch with you with emails and TWEETS, I know that you need Me...I'll be there in your heart and MIND, you are never FREE. ~giggles~
UPDATES
I'm feeling very happy about how the first half of 2018 has gone.  It's been a lot of hard work and some setbacks with having to start over with My New Website.  I'll keep you posted.
There is still time to send your Domina a present and make Me happy for My birthday.  SURPRISE ME!!!!!!  Challenge to PLEASE is easy...or there's My Wish List too.
NEXT WEEK
Next week, I will be making you My Sex Toy, the HOT file session you will be using for your release on the 15th.  A very exciting CONVERSION...Trance-formation....
Check out special deals ...