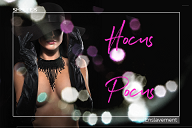 Note: This session, although SEDUCTIVE and playful, is VERY POWERFUL and DANGEROUSLY effective. Never underestimate the motivations and malevolence of mesmerizing Domina, your fate is in My hands when you enter My world! So, you may stop right here and DOWNLOAD Hocus Pocus, because I know how much you love a little danger. ***Giggles***
Oh Hi, that was quick...you are back already. I do LOVE the way you put all your trust in Me.
My sweet, have you missed your Domina? Of course you have, you always need Me...I have a very important femdom EROTIC HYPNOSIS session for My slave this week. It gets to the root of O/our relationship, from which everything grows into your deeper hypno enslavement and SUBMISSION to Me... in a very sexy and WICKED way of course. All I have to do is wave My wand and say Hocus Pocus and you find yourself in desperate need to listen. ***Giggles*** Such a SEDUCTIVE/WICKED session. So many ways that I take control of your mind.
As you already know, I like My sessions to be a surprise...but I will give away one SECRET...you will be collared and you will not resist. you will be too weak for that after I slip and slide into your open and suggestible mind.
I expect this session to be life changing. My hypnotic spell of seduction spins into My tighter control.... around your neck.... and turns My spellbinding magic into your dreams of Reality.
My Collar is the symbol of Ownership. you have a strong attachment to your physical collar as that symbol. W/we may have even had an "official" COLLARING. you crave the submission and obedience that overcomes you when you wear My collar. Enslaved to your Domina Shelle propels your desire of servitude which binds you to Me as My collared slave. But wearing a physical collar can be impractical, especially in the moment, when you are seeking its powerful effects. My sweet, into this collar I infuse My will and control.
Whenever you miss Me and long for Me, this session will be My gift to you, My loyal and obedient slave, to last a lifetime. Listen to it and you will always keep Me close to you.
Whenever you hear My voice you are compelled to obey. I am your motivation and give you purpose to do well and succeed, to stay healthy and safe, to devote yourself to serve, please and take good care of your Domina, your Mistress Owner, your Everything. you always know just how to PLEASE Me.
UPDATE
I am so enjoying reading your new Mantras from Your Mantra Assignment. Such devotion. Keep those emails and pony express letters coming. And I love the little surprises inside. Yippee! you love Me. I'm going to see about recording your Mantra as a little gift to you. Soon I HOPE!
I am still working on the sissy Classroom. I made some last minute changes and will have it PERFECT for you next week..
NEXT WEEK JOURNEY: Imagine a HOT sexual experience during an Alien invasion and abduction....
And as mentioned Domina's School for Sissies.
Check out My special deals:
Reinforced Repetition --
Reinforcing the Law of Hypnosis
Domina 24 Hours --
Twenty-Four hours with Domina--in PERFECT SERVICE TO ME