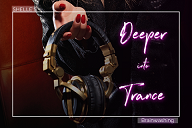 June continues with a closer look at what W/we have going that makes life so great. There are so many ways W/we relate to each other, Me as Domina, Therapist, Hypnotist, Princess, and you as My submissive, Chastity slave, My sissy good gurl, My love toy, guinea pig, Teacher's pet, fetish slave.... But, it's My CONTROL that you most want. And most of you understand the thrilling experience of My Erotic Hypnotic CONTROL. And, this week, I have a real treat for you with Deeper into Trance. This is for everyone, from those who fall easily to those who are still learning how to relax, let go and fall for Me. Life gets better when you are able to go deeper into trance.
Have you ever wondered just how deep you can fall into trance? Have you ever fallen so deeply that you simply awakened yourself because you felt afraid of what was happening to you? I have experienced this feeling in the past...I have literally fallen so deeply that EVERYTHING else disappeared. It was, at first, intimidating, especially for Me "The control freak". But, as I grew in My own power with hypnosis, I LOVE the Deepest trance. It's the most amazing escape ever. It's an absolutely irresistible addiction.
Yes, I do a lot of self trances, I want to experience hypnosis and feel what you feel. So, My sweet, for this trance, just let go and enjoy the process. I promise you a deeper trance if you just surrender, give in and let your mind be BLANK and EMPTY! This week's session is somewhat of a trance within a trance. Taking you deeper with every DEEPENER. So, fall for ME...do NOT hold back. Let Me persuade, induce, convince, and influence everything you do. I will be there to catch you whenever you reach My voice in the euphoric state of erotic bliss, aroused in submission and obedience to the loss of control. There is a Deeper pleasure from total surrender of your beautiful, suggestible, submissive mind to My control over you.
UPDATES
And, this is such a good way you continue to show your love and devotion with Challenge to Please. Now, think of My hand over yours when you send. ~giggles~
NEXT WEEK
Next week is Contracted week and the end of June, dedicated to your beautiful submissive mind.... all MINE to play with.
My pet, check My special deals ~~~