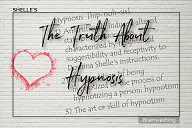 This week I'm going to put all My cards on the table. I'm going to hypnotize you like I do most weeks. After all, I am an Expert and Persuasive Hypnotist. And in the capable hands of an Authoritative and Dominant Woman like Myself HYPNOSIS is a most POWERFUL and overwhelming tool to use to Control all My subjects.
So, get comfortable, concentrate and focus on what I am explaining to you in this week's The Truth about Hypnosis. I am going to tell you the truth about My wicked little ways and all My plans for you, My hypnotic subject. I'll show you just how I entrapped you into this life you are now living as My submissive slave in My Erotic Hypnotic World that I have created just for you. If I am being honest, I created this world and life for U/us. Me, the Domina. you, My slave.
As always, you will go deep for Me and become very aroused and HORNY. I always make you horny. But, even if you are not fully hypnotized into a deep trance, you still feel all the effects of My words and can no longer leave. My words come with a warning, but, you will not heed them. you are simply so weak and suggestible for your Domina. That's how skilled I am, even when I show you everything I am doing to you. I understand you and all your needs. I know the Real you, better than anyone. Now I have no guilt about My "devious tricks" and what I do to your mind ~Giggles~ It's all your choice. After all, you need and want Me so much, don't you, My pet? PERFECT!
UPDATES
With My BIRTHDAY coming up soon, August 5th, and all the questions I'm being asked about what to give Me, I have My heart set on a beach house in Sanibel, Florida in October. So, I have a way you can take Me to the beach and give Me a beautiful Birthday gift all at the same time. LOOK FOR LINK soon...Or send TRIBUTE on challenge to please NOW.
Look for My slave Girl, Lady Helena, in the coming week to put out Her Hot new session. She is back to help ME, keep you in line, where you belong.
Wednesdays may become My favorite day of the week if you keep trying HARD to please Me as Shelle Rivers Teacher's Pet.
NEXT WEEK I'm going to give you the experience and fantasy of a Lifetime ...details later.
Come see My special deals ---