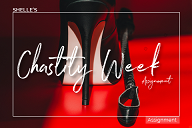 Can you remember what your favorite toy used to be? How about, now? I just love toys. Oh, you naughty boy. I know what you're thinking. you're thinking about the kind of toys most girls love to play with. Those hidden deep inside the drawer next to the bed...Toys that buzzz and require batteries. ~Giggles~
I'm not one of those Girls. I love toys, but a different kind of toy to bring Me pleasure. I love toys that do whatever I want...Toys with buttons and strings. Oh, I bet you love the way I can push your buttons and pull your strings. That's right, YOU are My favorite kind of toy...I can push a button to make you say whatever I want and pull your puppet strings and make you do whatever I want. Then, there are those little triggers I can whisper and you simply obey. Oh yes, you are My very favorite toy. Have you ever fantasized about your Domina pushing your sexual limits? Welcome to this week's Hypno Toy'd and Hypno Toy'd Sissy.
I'm going to lead you into My HYPNO DUNGEON. I'm gonna play with you and toy with your mind......and body. This is going to be so hot.....Me and My little toy all alone together. I can't wait! So take My hand and I'll take you to that special place in My dungeon...and perform all sorts of hypnotic torturing things on your mind and body. This is going to be so sexy...My panties are already wet just thinking about your being objectified and used as My pleasure toy. I am a TEASE...you love tease and denial.
Don't worry, I'll have you so deep under My control that nothing will matter any way. giggles
OCTOBER CHASTITY WEEK
you have learned to submit to My Hypnotic power with obedience. When I play with you, I play HARD...I know that your being sexually submissive brings ultimate pleasure. That's why I planned this week's session as the perfect preparation for One Intense Chastity Week-October which starts Saturday. Experience the exquisite pleasure of being denied your own touch and needing to focus on the sweet caress of My hypnotic power. Obedience is Pleasure.
Many chastity slaves understand this and are doing a whole month of pleasurable Chastity. But this is for EVERYONE else, especially for you, if chastity was something you would never even consider because you can't keep your hands off of My toy. ~giggles~
Maybe you don't understand the lasting pleasure of selflessly sacrificing your orgasms for Me by obediently submitting to My orgasm control. I'd love to teach you. Willingly delaying sexual gratification concentrates your desires to please Me and embrace your need for enslavement to a Dominant Woman. Through this dedication, obedience and personal commitment you truly surrender yourself to Me and enjoy all the benefits I will provide you with this week of chastity.
By the way, for My chastity slaves in Locktober Lockdown, join in and feel My control in a most erotic way...Let Me guide you to sexual madness.
EXPERIMENT
Let's do an Experiment and focus on PLEASURE to find out which was your favorite part of this new week. PART 1 (Hypno Toy'd) when I play and use you as My sexy toy, push all your buttons and pull your puppet strings. you simply obey because you are under My complete control. Or PART 2 you go into 7 days programmed for Chastity. Following My instructions to the Letter. Controlling you and your day from morning to nighty, night. Controlling what you think and feel, what you listen to, even what you eat and do. Then, PART 3, after a week in submission and obedience, delaying sexual gratification, I allow you to beg for release with a HOT, HOT session, next week (Saturday), guiding you all the way to the most Explosive conclusion.
I want you to participate in this Experiment by Emailing Me with PLEASURE in the heading after listening to next week's new session. Then let your Domina know which PART - 1, 2, or 3 gave you the MOST pleasure and why. And I will post the results the following week. Mmmm, any predictions?
Full time Chastity slave, you may play along. Listen to both sessions and Deny as your option.
UPDATES
I'm feeling much better and I'm getting back to My expanded hospital schedule. I'm really trying to find the time for My beach getaway. your money is burning a hole in My lil pocket. Giggles!
Remember at the end of the month, 1...2...I'm coming for you...3...4...I'm at your door...HALLOWEEN. Are you scared? I'm excited.
NEXT WEEK
HOT HOT HOT....I mean exploding and ERUPTING hot. Just think only one week away. Can you withstand My teases?
My special deals include files for My Chastity Week assignment ...