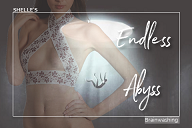 It's quite amazing with the whole world turned upside down, here W/we are together, steady and secure. W/we not only persevere but I can feel O/our bonds are even stronger. W/we need each other during these tough times. It's good to hear that you are staying safe. I am so uplifted and energized by your love and devotion which I see and feel every day after those long days and nights of caring for patients at the hospital. After long hospital shifts, I enjoy falling into deep, deep sleep, dreaming of you, My baby, taking such tender, loving care of Me and My needs, while you dream of Me enslaving you into deeper servitude. ~giggles~
And this week, I am going to take very good care of your needs, My puppy, with Endless Abyss. Continue your journey into My world of unending subjugation. your Domina always knows what you need. I know what you want, and I decide what is best for My pet. you want to fall deeper for My mesmerizing voice and breathe in My hypnotic chloroform. you desire your Princess to be at the center of your everyday life to guide you through the day. I am already at the very center of your subconscious mind in control, pulling your puppet strings.
I am creating a new place deep in your subconscious mind that you will be returning to again and again. you need to submit to My EROTIC HYPNOSIS programming. Submission to Domina will liberate you to be your truest self, the person you were destined to be, My loving slave. Feel the deep hypnotic surrender inside My abyss and obey all My suggestions to make you an even better slave for Me. As a true submissive, you crave to surrender to a higher authority. Nothing feels better than to serve and please your Domina because it's so rewarding to live out your need for submission and obedience. you will listen and return to My Abyss for the next eight days. So, obey, click on the link and download your session with Me, NOW. you have no choice. Choice is really an illusion. Obedience is reality!
VOLUNTEER DAY
My sweet, you have always been good to your Domina with your VOLUNTEER gifts. I love when you spoil Me. It makes Me feel so appreciated. And for that you find a comfortable, private place. you long with all his heart to serve your Mistress. Look at one of My sexy pictures. Listen to that favorite file. Unzip and feel the pleasure of pleasing Me. Then say, "Thank You, Domina."
UPDATES
Are you staying safe, following the rules for a healthier lifestyle, spending more time keeping relaxed, stress free, aroused and needing Me more? Good. giggles~ I wish I was able to give you more of My time and attention… be more available to you..... With less time at home, know that I am still thinking of you. Sometimes, it's just taking Me longer to get back to you. But doesn't it feel good to be longing for your Domina? Needing Me. It makes you think of all the little things you could be doing for Me. And you know how I love that. Keep UP the good work.
Remember to visit My Youtube channel and leave a comment on My new Escape Island video.
NEXT WEEK
Next week, I will bring you under the care of Nurse Shelle for My special treatments of Dopamine. you are just going to LOVE what I will be doing to you.
I also have a "little" Assignment to keep you busy.
My special deals have changed:
Hypnotized into Obsession --
Have you TRULY EVER felt OBSESSION?
Queen Of Hearts - Manipulator --
A MASTER at MANIPULATION---I will simply snap My finger and you will lose all resistance.