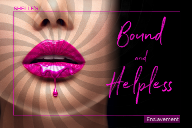 My sweet, you've been My lab rat, My sex toy, My slave worker and puppet... With Christmas here, I wanted this to be a very exciting week for you. you trust Me and you are willing to volunteer for another Experiment with a special treatment in this week's Bound and Helpless. This is a dream come true for any submissive, eager to be used for a Dominant Woman's pleasure. Listen to My voice as I bring you deep into My treatment chamber/Dungeon. You will breathe in the addicting scents as My liquid injection causes a reaction and encases your mind and body. So real. So much PLEASURE EXPERIENCING so many fantasies and desires as it all comes together. Bound by the cool sticky liquid as it trance-forms you...leaving you HELPLESS to whatever might happen.
Mmmm, what I do to you. I don't want to spoil all the fun and tell you anymore.
Let's say, that if you have ever wanted to feel complete HELPLESSNESS, this is your chance.
MERRY SPIRIT
Santa Shelle is wishing you a very Merry Christmas, the best time of year. I hope that on Christmas Day you will have a great time with your family and loved ones. Usually, We travel out of town for a Christmas family get together....but this year We are staying home. I'm hoping My daddy is able to leave the hospital and come home. Although it does not matter where we are as long as we are with those we love. He is doing really well. The Holidays are going to be amazing for us all, I just love the spirit of goodwill, sharing presents and happy memories.
My sweet, you and I, W/we have a very unique relationship. Not only am I your Domme and you My slave...but just person to person, W/we know a lot about each other. W/we are important to each other. I work hard to bring you exciting experiences every week. It's important to Me that you want Me to succeed and take good care of Me. I know you feel good about spoiling Me which I am happy about. I feel loved and appreciated and I know you do, too. I'll have a few surprise gifts for you under your tree for Christmas.
If you are still undecided for gift ideas, consider My priority this year with: Challenge to PLEASE. Or you many prefer something from My Wish List. Or maybe express your love with a Gift of Love. Reflect on this past year, how W/we have gotten closer. I appreciate your support and all the love and devotion you have given Me. If you sent a gift and didn't get My personal Thank You, let Me know what you sent. you have made it a very rewarding year by committing to do your very best for your Domina and Princess. Next year will be O/our very best, yet.
UPDATE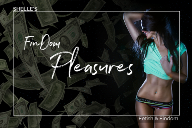 So many things came up this week that I was delayed with last week's file release. In case you missed it, I now have in New Releases, FINDOM Pleasures. I want you to focus on the PLEASURES. Read last week's Blog posting and the file description for all you need to know about this wicked SENSUAL session. READ CAREFULLY!!!!
Speaking of Pleasure, I have lots of Christmas pictures for you. Watch out for My Christmas GIFT ...a sexy surprise awaits you.
NEXT WEEK
I will have a Remastered, Tricked Into Trance to bring in the NEW YEAR and the subject of the last class for ReForm School-Class #15.
Check out these hott special deals:
Mind Dominance --
My voice will slip inside and before you have a chance to stop it, you will be HOPELESSLY trapped by your own desires and wishes ...
Edge Of Control --
Edge of CONTROL...you simply will not resist this one.
Surrender KM