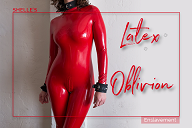 My baby, it may seem that I am implanting images, fetishes and triggers so that wherever you go, whatever you see or think about, remind you of your sexy Domina. And that's because I have been doing exactly that these last few weeks. you need Me more and more and that's what I'm giving you this week with Latex Oblivion.... A visual feast... shiny, smooth, bright, tightly hugging every salacious curve of My alluring, sensuous body.
Let Me seduce you into a peaceful, mindless, pleasurable sleep before I take complete control and satisfy all those yearnings you have whenever you hear My adorable, enchanting voice. This is a recording that stimulates your imagination and cravings to fuse My voice and words with the vivid image of My latex clad body which sets off your submissive desires... and lust for My latex skin. Addicted to My latex, you feel a need to be OWNED, collared and controlled by your Latex fetish for My curves and breasts pressed against your chest. Sweet dreams, My baby. Read the description and download, immediately.
UPDATES
Last week, I had Technical issues that delayed sending you the email notice and late posting the blog. I had to purchase some new equipment to fix the problem. What I have been trying to do lately is posting the week's New Release early whenever I can, so look for it if the blog is delayed.
About needing a new PC for Valentine Day, I have a very good boy slave who is kicking off the purchase of My PC laptop with a very generous contribution. I want to add a desktop screen and a keyboard to make it more comfortable and efficient to get all those email responses back to you. This will also work well with the recent updates to the Website. you can help Me with a modest contribution to Challenge To PLEASE. I always treasure your loving support, My sweet.
And one of My gifts to you for Valentine's Day is going to be a Buy My Panties sale. My worn, p*ssy scented panties will continue O/our fetish focus. you know how much I love to feed your fetish cravings. If you order now, by the time you get them, I will have a new Playground Trigger for you to use them and breathe in My essence.
This sounds like a broken record, but the pandemic is still extremely dangerous. So be extra careful and follow the national COVID protocols. I want you safe and sound for Me.
NEXT WEEK I am going to SNAP you to attention.... Plus there will be your Month 11 Wellness Challenge.
My special deals:
Twisted Cinderella --
The TWISTED Cinderella will give you nightmares of pure pleasure...
My Chosen slave --
"My Chosen slave"---words that arouse all your "senses"
Buy My Panties --
Breathe in My scent and become MORE enslaved to ME!
Buy My Panties and MP3 --
Buy My Panties and Addicted To Panties MP3 ...