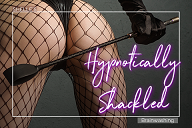 My abductee (♡), you know that I am an experienced and expert hypnotist and know what is best for you. I have observed and controlled many minds over the years and have discovered so many amazing things about the mind. Each week, digging deeply into what makes you tick, what motivates and triggers you, I really have learned so much. And I'm going to share some of My knowledge with you in this week's Hypnotically Shackled. Wait. Better yet, My puppy, I'm going to exploit you with this knowledge.
It feels so good when I take advantage of you and your submissive desires. It excites you to be so helpless and weak for Me when your Domina uses you for My purposes and benefit. After all, I am the #1 priority in your life. And feeling useful is something I want you to enjoy. It's fulfilling and gives you a sense of accomplishment pleasing Me this way. It brings that twinge between those legs. Whenever I exploit you, your obedient mind hungers for My suggestions because you are craving My guidance so you can Honor Me with your obedient and subservient behavior.
See, you know I only want what's best for you, My sweet. Look at you...your eyes are already blank and your mind is EMPTY, ready to Download and fall into My sleepy hypnotic bliss. Before you do, I want you to find something made of leather, close your eyes and take a deep breath. Then, just relax while I whisper My programming into your ear...so slip into a soft cozy place and allow Me to do what I do best. Sleep, under My control, makes you happy...I am your happiness and pleasure.
The file description is all you need!
UPDATE
I am making plans to drive to Tennessee sometime soon. My sister is so excited that I'm coming...I spoil her and you spoil Me with Challenge to PLEASE. Thank you for all the love and support you have given Me since this all began. I feel very good about My sister's future. I have so much hope that with continued therapy she will continue to regain her ability to live at home, walk and communicate. This has been a hard road, but it's all worth it. I just wanted to give you a quick update. W/we are so close, like family. I know you are feeling what I feel...so feel good. you have really helped Me through all this. I'll keep you posted.
NEXT WEEK
Next week, I am going to be teaching you about the brain and how I am perfecting that part of your brain that makes you feel soooo good.
Check out this week's special deals:
Neuro-Lab Rat - Phase 2 --
Calling All Lab Rats...more (unethical) experimentation...
Neuro-Lab Rat - Phase 1 --
If a lab rat/guinea pig is placed under hypnosis his brain can be programmed to be indefinitely controlled by the hypnotist...
Under My Control --
This session will leave you in a very deep and sexually euphoric state of mindlessness...