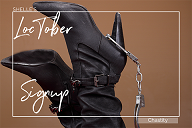 Welcome to LOCTOBER Week I - The Keyholder. you know how much I love LOCKING you up and wearing the key between My sexy breast...and I know you love it too. It's so exciting when I control your need to submit and Obey. I can turn up the heat keeping you mentally and physically on edge without you even touching yourself. It makes you so desperate to please Me, promising yourself you will do ANYTHING for Me. I love it when you're HORNY and DESPERATE to PLEASE Me.
I have decided to use the LOCTOBER four-week Chastity session package from 2021. It was so amazing and I'm not sure how much it could be improved. My sweet baby, if you participated in LocTober 2021 you have this session already...But, if your fingers slip and you purchase it again, I'll accept the sweet tribute. Giggles!!! TEASE and DENIAL comes with a PRICE.
EVERYONE participating this year MUST SIGN UP. Loctober will include teasers throughout the month and the initial Pre-Chastity DRAINED session to download and listen to before you're LOCKED DOWN on October 2nd.
If you are new to LOCTOBER and want to experience the many possibilities of erotic submission to your Domina, of course, SIGN UP. Then you must go to NEW RELEASES and get the Week I Loctober Session.
FREE DOWNLOAD: If you have the Week 1 2021 Loctober audio session, download the updated Assignment for WEEK 1 here: Chastity Assignment & Sissy Chastity Assignment.
When I place you in Chastity you are pursuing your Destiny to a life of obedience and service to your Domina Shelle. Strict Chastity brings your deepest submissive feelings to the surface as you OBEY My every command. Every true submissive has learned to crave Chastity, when I want it. This first week of strict obedience is the perfect time to teach you the many pleasures of Chastity when 100% of your attention and focus is on your Domina. you surrender and obey automatically, to My instructions and control without thought or question because you trust Me, Blindly, to know what you need to be better for Me. Remember I own you, Pet.
I am more than your addiction and obsession. In Chastity you will have My attention full time. you Love Honor and OBEY Me. That's why you do all you can to win My affection and approval. Serving Me is the best thing that has happened to you.
Don't worry, If for any reason you can't or choose not to join in on LocTober, there will be a new MIND FUCK session weekly. you will not be disappointed.
For My gurls, of course you have My sissy Assignment.
UPDATES
you will begin LOCKDOWN this Sunday the 2nd, but it's more important that you start when it works best for your schedule (make it work for you). The Week 1 ASSIGNMENT- Supervised Obedience will explain how you can do it to fit your schedule.
Besides today's LocTober WEEK 1 Keyholder session, with the ASSIGNMENT there are additional sessions to listen to throughout the week. I expect you have most of the files, but any you don't have will be in My Special Deals each week. you decide which file to listen to and on which day. It is up to you. Spend as much time listening to Me during the week as you can. This is a real mental, physical and emotional experience. you'll be all MINE for weeks at a time. Yummy! The assignment will LEAD you DAILY. I promise it's NOT complicated!
NEXT WEEK is Week 2. Oh those Chastity pleasures and maybe a little teaser. Plus coming soon, My new sexy picture pack will tease you to the very edge.
My special deals have the additional sessions for your Chastity Assignment.