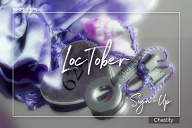 Welcome to LOCTOBER FEST Week 1. Every well rounded submissive has learned to crave Chastity when Domina wants it. After all, I choose only the best to serve and obey Me. ~giggles~ LOCTOBER WEEK-I - The Keyholder is the perfect time to teach you the many pleasures of Chastity when 100% of your focus is on ME! My sweet, I have incredible power over you. I am a POWERFUL DOMINANT Woman and you are My obedient horny submissive that seeks out My programming and control more and more everyday. And in each week's Assignment the Thoughts for each day are My thoughts.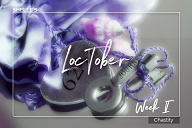 I am more than your addiction, an obsession, and in Chastity you will have My attention full time. you Love Me, don't you? W/we all want to love and be loved. That's why you do all you can to win My affection and approval. Serving Me is the best thing that has happened to you. It makes you happy, brings meaning and fulfillment to your life and that makes everything else you do better and more satisfying.
This is a sexy wicked game that I play with you and your libido. you love it when I play with your mind, heart and your sex with My sexy erotic words. Yes, My pet, Chastity is very Erotic. you want My attention and in LOCKDOWN you will have it with My close supervision and management of your daily activities and sexual pleasure. Keeping you LOCKED down and HORNY makes you a much better submissive and when you are HORNY, you will do anything I want. I love it this way.
For My gurls, see My sissy Assignment option.
UPDATES
If you signed up for the 3 or 4 week Loctober option, you should have received the DRAIN session to listen to before starting Week 1. I planned for you to start LOCKDOWN this Sunday the 3rd, but it's more important that you start when it works best for your schedule. The Week 1 ASSIGNMENT - Supervised Obedience which comes with the session will explain what to do.
Besides the Keyholder session, there are additional sessions to listen to throughout the week. I expect you have most of the files, but any you don't have will be in My Special Deals each week. you can decide what file to listen to, and which day is also up to you. Spend as much time listening to Me during the week as you can. This is a real mental, physical and emotional experience. you'll be all MINE for weeks at a time. Yummy!
If you haven't Signed Up, you can just try the Keyholder session and see what you're missing out on. you'll like it.
NEXT WEEK is Week 2. Oh those Chastity pleasures!
My special deals have the additional sessions for your Chastity Assignment.