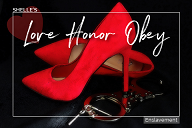 Did you miss Me, My puppy? Of course you did... I'm so happy after visiting the Farm. And a happy Domina is a Powerful Domina. Remember when I said you've seen a pattern developing with each week's session building on the previous one?... demonstrating the natural order as My Beta Drone. Then, defining you, your role and purpose in Objectified, My slave 624, with no choice except obedience. All reinforced by My psychological treatments and conditioning with Hypno-Asylum.
I absolutely loved recording this week's Love Honor Obey erotic hypnosis, which is the Centerpiece of these recent sessions, defining the very CORE of O/our intimate Dom-slave relationship. These are the Vows you make with your lifetime commitment to Me. The words Love Honor Obey are so simple and self evident, but oh so sexy and arousing for both of U/us. you'll see why after listening. This session is training and conditioning you under My guidance and expectations for your journey to being My perfect slave.
When I raise My expectations, this means you raise your expectations of yourself. Then your servitude, enslavement and arousing pleasure deepens. Love Honor Obey are words you will be living every day. And everything you desire will follow. My TRUE slave seeks My approval. That's why Pleasing and Pampering Me feels so good. Selfless Love is the great motivator that brings My love and approval in return. you Honor Me with your Mantra, your Adoration, with your care and support. you Obey Me by submitting and sacrificing for your Princess.
you will Love, Honor, and Obey only Me by dedicating every part of yourself, as My love slave, My beta drone, My good boy, My lab rat, My sissy gurl .... because I am your one and only Dominant love, your Mistress/Owner, your Domina, Alpha Queen, Princess Shelle and your greatest pleasure. So, My baby, cum for Me, as you internalize the meaning of these words. And then you will find New ways to Love Honor and Obey Me in your personal and unique way that brings you True happiness and fulfillment.
Be AWARE: This session is POWERFUL LOVE Spell.
UPDATES
This week you may Love Honor and Obey Me by acknowledging your submission to Domina Shelle Orgasm Control with a Stroke Tribute or appropriate Offering. And see how good it feels to Please Me. I'll also let you Please Me with a Gift of Love. I'm so good to you, My baby, Giggles
Wow. What a great week it was back on the Farm and seeing My Tennessee family. I still think of this as home, being a farmer's Daughter... and thinking of you as My worker slave on the Farm.
All My beautiful babies, I really appreciate the wonderful work you are doing on behalf of your Domina with the terrific Social Media Posts you are putting on your media sites to Love Honor and Obey your Domina and Princess. you have shown great initiative and imagination. With loving care you have created such personalized and enjoyable content. Have I given you some inspiration? Lots and lots of kisses.
NEXT WEEK I have planned for two sessions. One session that I will post and make available is a return trip to the blissful feelings of the Pink Sleeping Forest. For the other session this will be a Gift to My contracted slaves for your Love and Devotion to taking such good care of your Domina Shelle. None of this would be possible without your support.
Check My special deals:
Brainwashed Addiction --
you come to Me to be brainwashed, controlled and dominated...
Shelle's Pleasure Slave --
Can you imagine your PLEASING Me...Giving Me PLEASURE...The most EROTIC SEXUAL PLEASURE?
The HARD Game --
Are you up for a challenge? COME ON, play with ME...I'm feeling naughty.