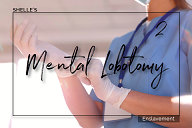 Do you ever stop and ask yourself, how much deeper can I go? Do you ever think about O/our REALITY? I mean isn't it great to be so close...Just knowing that we are living O/our lives and being TRUE to ourselves. It feels good knowing that W/w have a safe place. A place where there is no judgment, only ACCEPTANCE. This means so much to Me.
I want to share a moment of My private life with you before I go any further. Tonight I am reflecting. I lost someone so dear to Me today. The Nurse in Me knows that it was the best thing for Mr. K. But, the other part of Me is really going to miss him. I always LOVED talking to Mr. K and he depended on Me a LOT. I took him dinner all the time. Oh, and PIES...he loved My pies, he thought I was the best cook, which I am of course! Ha-ha. I was reflecting on conversations that we had over the past years. He always gave good advice and I respected that so much. I remember one day that he said to Me, Michelle always be TRUE to yourself. Take care of you and don't waste time, we only get a limited amount. How true that seems tonight...Thank God for memories. May we all cherish our memories and keep them safe. God bless his family and I know that he is now REJOICING! I'll miss your stories Mr. K.
OK, now let's do a little of that BEING TRUE TO ONE'S SELF. It's time for you to submit once again and meet with Me in O/our world. A wonderful place that I have created inside your mind. This place that is built for US, a PRIVATE place where we can be true to each other.
So, welcome back to My office, where you are My patient, and I am in full control. Well, actually where you are, MY LAB RAT! I love it when you allow Me to do anything I want inside your brain. SO SEXY! My patient, as a result of the first psychosurgery I performed, I did observe a positive change in your behavior. But, there are definitely some adjustments that are necessary in order to improve all aspects of your life. So, My helpless guinea pig, come on into My laboratory. This psychosurgery Mental Lobotomy 2 is not going to hurt at all. In fact, you'll be begging for more.
you belong to Me. My voice controls you and with this procedure I will take more direct and complete control of something very important to you, just like you've been wanting Me to do. I won't spoil it now, but I'll reveal the goal of the surgery as it's happening to you. It will be more exciting for you that way. One positive side effect will be to have you more docile and manageable. Yes, a dream cum true.... you know there is no pleasure without My saying so. I will tell you that after this procedure, I will automatically be at the center of and in control of all your sexual activity. Plus, you will immediately notice that this will increase your submissive responsiveness to ALL the changes I will have made.
This is going to be so much fun for Me, using My sexuality to seduce and condition you. And I love the way you want Me to fuck around inside your mind to give Me whatever I want. Isn't AUTOMATIC OBEDIENCE something that you crave?...yes, a simple little adjustment and...well, you will see. Go NOW and CLICK and DOWNLOAD! Obedience is your PLEASURE!
UPDATES
My sweet baby, I want to thank you, again, for making it such a wonderful Valentine for Me. Thanks to your V-Day gifts I had a very well-deserved pampering this week with a full body massage, a mani/pedi, then a great oyster lunch. I'm all sexed up for today's procedure. ~giggles~ Keep up the good work of taking care of Me. Soon, I'll schedule My two-day beach trip...I'll update everyone on that.
My beloved contracted slave, I sent you My gift video to say how much you mean to Me. And now you can keep sexy images of Me in your mind every time you listen to My voice. What would you do without Me? Loves and Kisses.
Finally, a week with more relaxation. It is so hard to get away from this terrible tragedy going on in Ukraine…Send your love and thoughts to those suffering and feeling so helpless to stop it. I am making a contribution to the relief effort in Ukraine. Everyone can directly contribute to a legitimate organization helping with the relief effort. Do your research. OR you can contribute through Challenge To PLEASE. I will send everything you contribute this week to the CARE organization for their Ukrainian emergency relief efforts. O/our hearts and prayers go out to the people of Ukraine.
Findom slave it's been very good to hear from you. I am putting a training session together for you and some future assignments. I know you can't wait....... I never realized just how much you needed this...giggles
NEXT WEEK
Next week a very deep hypnotic mind control session. More training and conditioning to make you more perfect for Me....
Here are this week's special deals:
Hacked --
your Mind has been hacked...Now She is trying to hack your conscious mind.
Brainwashed NOW --
Imagine what it feels like to truly be OWNED and CONTROLLED.
The Huntress --
Can you escape Me?