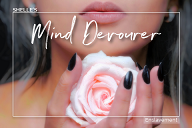 Have you missed Me? Of course you have, My baby. I have literally been in heaven. But your Sun Goddess has returned to feed on your addiction. The ocean air has made Me hungry. I am so good to you for making My beach vacation such a heavenly pleasure for Me and now it's your turn for heavenly pleasure. Are you ready for what I have in store for you with Mind Devourer? I know you are more than ready. you are so eager for what I will be doing to you because of this Ultimate TRUTH: Surrendering to My power is more than a compulsion or craving. It is a necessity like eating and breathing. That's ​because Surrendering is one of your central roles as My submissive slave. Nothing feels better than simply doing whatever I tell you to do....Being in that wonderful state of mind where Obedience to Me is such pleasure.
Devour is such a powerful action verb, but I have this insatiable appetite to break down all resistance and make every single part of you MINE. And you, in turn, have this insatiable need to be weak and helpless before your Domina and beg to give Me all you have to give...draining every last drop! Yes, My pet, just the thought of it has you so aroused. I can hear your saying, Domina, please take me and make me YOURS to be under your complete control. i'll do anything for You. Good boy. That's what I want to hear and is exactly what I plan for you. And getting there I am giving you all the pleasure you can take.... Each session builds on each other...you want to belong to Me and obey My commands, My programming, conditioning which are addicting and defining you as Mine, forever.
DO NOT MISS THIS SESSION. Feel the POWER that I have over you... Tools to be used: My hypnotic POWER and MY Voice.
UPDATES
This was a perfect getaway...HEAVEN... Great company, weather, water and sand, sun and sunsets. And thinking of you thinking of Me eating all those delicious meals and yummy oysters and wishing you were there rubbing Me down with suntan oil. And now, I have a lot of catching up to do. I'm keeping track of everything.
DRESS ME Update. Thank you for the outfits and the gifts. Start saving your money because I'm ready for the castle. Lol... I will soon send a reward with My JOI instructions.
WELCOME newcomers message Update. Thanks for your patience. I'll record it next week once I'm settled in.
NEXT WEEK is a life changing session that will bring you one of O/our most intimate hypnotic encounters...
My special deals this week:
Calibration --
Isn't it so deliciously cruel that you won't remember much about My calibrations in this sexually tormenting masterpiece?
Comatose --
Intense, compulsory counseling. Experience guided hands-free masturbation - Mind Orgasm