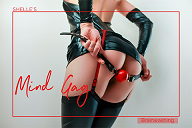 With a relaxing induction taking you deeper and deeper, let My voice wash away your tension and resistance. My pet, are you ready to submit to My training? Are you hungry for My control? I have someplace special I want to take you this week... to My private dungeon that I created deep within your mind for Mind Gag. Do you know what a ball gag is? A ball... this one rubber, with straps placed then fastened into your mouth. It's a BDSM kink intended to dominate the submissive, to stir sexual arousal and take complete control. It keeps your mouth open, making it receptive, making it a receptacle for whatever the Dominant wants to insert.
So, when I say I am strapping My ball gag on, you naturally, physically, open your mouth. However, this is not a physical restraint, but a mind gag that suppresses not the physical voice, but the inner-voice. So open wide. Just think of your Domina installing a new piece of My sensual hypnotic bondage into your mind. you trust Me enough to voluntarily give up all control knowing that I will keep you safe in My hands.
you hunger for My every word, programming your mind into complete submission. My words, My voice inside your head commands an irresistible compulsion. you have fallen past the point of no return with the overwhelming bliss of submission to My will. There's no way out. The pleasure of obedience to your Domina is too irresistible.
you'll beg for My conditioning triggers to always obey My commands. But I want more than that. I want a completely obedient mind, a mind guided to serve and please Me, to take care of your Domina...to be My more perfect slave. Is that too much to expect? ~giggles~
UPDATES
I want to thank those that contributed to CHALLENGE this past week. I am sending what you sent as a contribution to CARE for Ukraine emergency relief through PP.
Let's hope this ends soon.
In a few weeks I have to do tax returns for 2021. In the past you have helped Me with the lump sum payment for My retirement fund. So for the next couple of weeks any contributions to Challenge to Please will go to fund O/our future together.
your sympathetic support for the loss of our close friend, Mr K, is greatly appreciated.
Findom slave you will be hearing from Me, soon. I have big plans for you!
I am 100% today. I woke up NO FEVER and starving, so that is a good thing. I'll have a HUGE lunch and get refocused...what a week. Glad this one is GONE!
NEXT WEEK
Next week I am going to take you away from the troubles of this world. you are going to Cum to sleep with Me.
My special deals have changed:
Triggered HARD --
Domina loves you hard and HORNY all the time...
Punishment - At My Mercy --
Punishment or Pleasure...
Shelle's School For men--Classes 1-8 --
Shelle's School For men Series - All 8 classes (9 sessions)