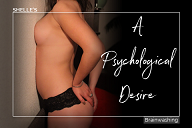 W/we are faced with very difficult days and weeks to come. Wherever you are, I am here for you and am planning these next months to help keep you safe and sound and well occupied. Take extra time when you Mantra, get lost in that time. I want you to feel the comfort of safety when you are with your Domina, relaxed and stress free. So, come to Me right now, My sweetheart, into My Erotic Hypnotic World, O/our reality, which is here just for you.
Let's start O/our journey with this week's erotic hypnosis mp3, A Psychological Desire. I will keep you very close to Me, close and very HORNY. I love playing inside My slave's mind...it's My playground. you love it when I pull you so close that you can actually feel Me there with you... My breath on your neck, My scent in the air, My breasts pressing on your back taking you deeper under My control, feeling so suggestible, weak. I know you'll want Me to stroke you into a dreamy pleasurable sleep. I can do that for you, My baby. I want you to feel safe and secure..... and aroused having Me so close and intimate with you. RUN AWAY with ME! Let's ESCAPE together.
Let Me take you back in time. Do you remember when W/we first met...Do you remember how I ensnared you? Do you remember when I took you...do you remember that night? Do you remember what it felt like to feel My complete control over you?
Ummm, My voice is your comfort. I make you so happy...you are going to feel so good as you listen NOW!
I am giving you TWO SESSIONS with separate endings in this week's package: A and B. you choose which to listen to. Choose your destiny...save the other session.
LAB RAT AMNESIA EXPERIMENT
To every lab rat that volunteered for My Amnesia Experiment, I will be sending a questionnaire. What you need to do is answer honestly to the best of your recollection. Look for it in your email. I will review, analyze and summarize the results and conclusions and keep you posted with the progress I am making.
My sweet, I appreciate your support and all of your love. The purchase of My sessions is very important NOW for both you and Me. This allows Me to keep your mind healthy and strong and allows you a wonderful escape deeper into My erotic world.
Soon: I will have a SISSY VERSION of A Psychological Desire.
Be sure to check My special deals ....
Notes: I have so many ways to transport you to a place of mental calmness and relaxation. Meditation sessions are in the making...and I will be adding GIFTS that will help you unwind and rest your thoughts.
Healthy Updates:
Thank you for your LOVE and SUPPORT...WOW! I never knew there was so much LOVE for FIRST responders. Thank you all!!!! Your "well wishes" mean a lot.
Protect yourself and Our Elders. LOVE is all W/we need...Oh and get some Vitamin D. It heals mind and body!!! Breathe in NATURE and FRESH air. Let's be close to all those we love...call someone up and say "I love you". WE all need LOVE!!! and toilet paper...Haha!!!