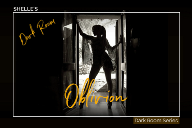 Listen to the Sample ---
Bring your unquestioning trust and your desires to be re-made by your Domina, so that in your past, present and your future there is ONLY ME with this week's Dark Room - Oblivion.  you have let Me into the sanctuary of your mind.  I have used it as My Forest, as My office couch, My dungeon and now My Dark Room where anything can and does happen...Funny thing is, no matter how dark it will be, you trust Me, My pet, and always let Me go deep into the sanctuary of your mind.
I fill the darkness, the nothingness, and show you the connection between My Power and pleasure.  There's only My power, and only your OBEDIENCE in the Dark Room.  your mind is Mine, your will is Mine.  I am the MISTRESS of your MIND...I am the Mistress of the darkness.  Every step W/we take together hand in hand is preparing you for your future.  This sanctuary, my dark room, is now one of your favorite places...a place where you an I can be alone...and this isn't your first experience with it.  I have brought you here in different ways before. Sometimes you forget, it is easy to forget what happens in the blackness.  So many paths that end in the same place, different places and the end of the same path, everything becomes something else, and something else was also just something before it became what is was, so what it becomes is what I want it to be.  you will soon see why the dark room....that special sanctuary in your mind....is not controlled by time and space.
The dark room reaches the deepest recesses of your VULNERABLE BLANK and EMPTY mind.  I can take you anywhere in My special room...My voice flows through you from all directions, no one can resist, because I am too good to you.  And if you remember what happened, you can remember what to send Me. ~giggles~
ASSIGNMENTS
I'm so pleased with your new commitments to Me from your Re-Form School assignment.  Remember to follow up to show you are learning My school lessons on serving and pleasing your Domina or I'll have to bring My ruler to the next class.  And I know you are very pleased with your 8 day Control assignment.  See how nicely this all works?
CHALLENGE TO PLEASE
Next week, I'm going to re-focus your attention on My Challenge To PLEASE.  There will be only 5 weeks to help with My savings goal for your Domina's future, O/our future together.  your continued support is what keeps Me going in those moments I am overworking getting you something new and exciting every week.  Who's going to be My Prince Charming and give your Princess the life of ease and leisure and luxury She deserves?  I'll be looking for volunteers. ~giggles~
UPDATES
I am posting a new SFS sissy slave story by rose My Handmaiden.
I'm reading your LOVE LETTERS NOW!  I'll write you back soon...and I circle YES! Giggles!!!
NEXT WEEK
I will have been working on MIND PLEASURE with a major reward for you next week.  All I have to say is Dopamine, and you know I'll make this a MANDATORY experience.
My special deals ...