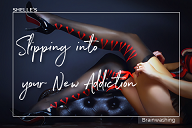 Often, I tell you to go blindly into a session. That I want your brain and you just helplessly obeying with no resistance. That this session will cause addictions that may not be erased when I place triggers and THOUGHTS into your brain without any warning ...Fantasies cannot be removed with fetishes that will drive you wild with desire and lust for your Domina. But with BLACK FRIDAY NOVEMBER W/we are going to have straight forward thrills and excitement with this week's Slip into your NEW Addiction.
My voice and words have long hypnotized and mesmerized you. But you will now be enslaved and addicted, with the fulfillment of your fantasy having My voice and body so vividly embedded in your imagination. Embrace the addiction and NEWEST fetish. Feel the ecstasy when you are bound to Me as My nylon slave. Filled with so much pleasure from Me, everyday your Mantra will be to SERVE AND OBEY.
With your eyes wide open and enslaved, I will lead you into My world...Feel the pleasure of addiction. you won't be able to stop. you love to obey, to be told what to do. So follow My instructions. Listen NOW. Accept My suggestions as your COMMANDS.
STOCKINGS SALE - Deepen your obsession. Bring the feel of My worn nylon stockings in your hand while you listen and stroke to this session, over and over again. They are on sale. And I'll send a picture of My sexy legs so you can imagine crawling to Me and kissing My feet.
If you already have a pair of My stockings, then buy Me a pair from My Wish List.
UPDATES
BLACK FRIDAY NOVEMBER
you will be getting a message I have about giving you thanks and appreciation with Black Friday November with deep discounts every day in November on ONE of My file sessions. A new one for one day only. So plan to cum back everyday. But My Chastity slave, the Challenge is NO orgasms all month long. you begged for it, now you have it.
PHOTOSHOOT
I have had several photoshoots lately and you'll love the pictures I have for you to adore next week. I will hold back in My private stock, pictures that I will send out as a gift or reward for being so good to Me. And this week or next, I'll let you help with My photoshoots expenses with a Dress Me Up contribution...and I'll send some pictures with My JOI instructions. ~giggles~
your Loctober JOURNALS will all be saved. Thanks so much for doing them. More news to come on how I will be using them.
NEXT WEEK Besides a new Photo pack, I'll be bringing you into the land of Mythology. you'll follow wherever I lead you, My puppy. Now go get your leash.
My special deals....with something new added every day starting Monday, Nov. 8th, for that one day only. If you already have that day's session, then make time to listen to it.