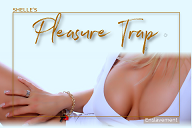 Have I got a delicious and decadent treat for you, My pet. I know how much you love My fluffy white leather couch. I'm going to CONDITION your open and suggestible mind and capture you in My Pleasure Trap. ~giggles~ Just relax, My sweet, and take a deep breath and do what you're told to do. Have you ever wondered what it would be like to have your brain COMPLETELY drained of all thoughts?
My conditioning is going to feel so good. Ummm, but just think about all the trouble that engorged c*ck gets you into. I'll prove to you what happens when you try to think......Think about that right now...I mean while you are not hard. Mmmm.....Wait, does just talking about your c*ck make you hard… Are you hard, My horny boy? (giggles) Can you feel the blood draining down and engorging your c*ck already...are you a little dizzy?
That's all you get to know. But, BE WARNED, My pet, My hypnosis conditioning is more than just compulsive, it's extremely addictive, more potent than any narcotic, an erotic hypnotic craving that can never be suppressed.
Oh, one more thing, you do realize that I use your horniness to distract you? It's makes conditioning and programming your mind so easy for Me. I'm so wicked, playing with your brain in such a sexy way.
It's amazing all the thoughts and desires that pass through your mind and the vivid visions you see with your special place at My feet. Don't be shy...open those legs. I like to watch. Just keep going...
UPDATE
Mmmmm... How sexy would it be to have My lipstick, worn panties and stockings, especially with a new picture pack from a photoshoot I just finished available next week?
My sissy gurl, did you miss last week's Playground link to a new hypno assignment TRIGGER? Just in case you did, I want you to SISSY Surrender ST, Now!
I have your September, Month 6 Wellness CHALLENGE. you need to follow all the changes from the previous months to commit to improving your healthy habits during this time of global sickness.
NEXT WEEK
My hypnotic Brain Scrambler takes you on the ride of your life. Yes, back to the Amusement Park. This session is INSANE! I could hardly record it, I was so ENTRANCED and CONFUSED. ***Gigles***
Also next week, PEEKABOO pictures of your Domina in black stockings, red and black garter belts, and more. Want a pair of worn stockings and undies? ~giggles~
Get My special deals:
Hypnotic Prison --
your Domina is pushing your limits with an almost sinister PRISON seduction...
Comatose --
Intense, compulsory counseling...Experience guided hands-free masturbation - Mind Orgasm.