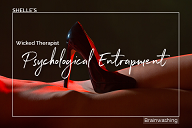 Have you missed, Me?  Of course you have.  And your reward is something special from O/our favorite Unethical Therapist with Psychological Entrapment.  Yes, this is an omen that anything can happen to you in this exciting and excitable new year.  So, come in, lie down on My comfortable white leather couch.  you've been here before.  Remember how easily you fell into that suggestible pleasurable sleep by just watching My sexy nylon covered foot moving back and forth?  It felt so arousing, didn't it?  Well, your Wicked Therapist is about to brainwash you even deeper.
I will disarm you, you will let your defenses down and POOF you are MINDLESSLY HYPNOTIZED and TRAPPED.  Have you ever looked into the EMPTY and BLANK eyes of a hypnotized subject?...you're going to be putty in My hands.  you've trusted Me so many times before.  you are so lucky I know how to feed your addiction.  That's why I've included an EXTREMELY POWERFUL LOOP Session that you will listen to just as your therapist prescribes.... you will be hypnotized, helpless, disarmed, WEAKENED and COMPLETLY SUGGESTIBLE in the hands of your Domina, again.
Brainwashing, Mind CONDITIONING, POST HYPNOTIC SUGGESTIONS, SUBLIMINAL MESSAGES and weakening binaural effects.
VOLUNTEER ASSIGNMENT
This next week is that special time of the month Volunteers.  It is gratifying to Me how you generously share the financial burden of My work and living expenses.  Special thanks to those who are helping Me support Lady Helena, she works so hard to help your Domina.  So understand, you are very much serving your Domina with your contributions to Lady H.
UPDATES
I'm planning ahead and writing more exciting new sessions for you.  you really liked Tricked into Trance and the gift video.  The final School Class will be in a few weeks.
My dad is doing well back at home.  Thanks for your LOVING support.
NEXT WEEK
All I will reveal is BONDAGE. ~giggles~
you'll love these special deals:
The Unethical Therapist - Addiction --
It's time to visit your Unethical Therapist...Take a seat on My white leather couch....
Catastrophic Events --
Cum and let My sweet sultry voice weave a hypnotic-spell over your enslaved mind...
Devious Therapist --
Extreme erotic hypno therapy ...