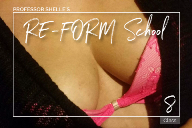 The bell RINGS for Professor Shelle's Re-Form School Class #8-Chastity.  This needs no real introduction for My Chastity slave.  For you this is a way of life and a welcomed reward after all those release sessions. ~giggles~  But this is very much a part of Masturbation Control, only less emphasis on masturbation and much more on control......and obedience.
As I become increasingly integrated into all parts of your life, and you become more and more MINE, Chastity, when I require it, is an important way you serve your Domina.  I am training you in all the different ways you demonstrate submission and obedience to My control.  My goal is always to make you a better slave to Me and at the same time I show you TRUE happiness.
The more chaste you are, the closer O/our bond, the more mental and physical pleasure you feel...a perfect way of expressing submission, obedience, love and devotion.  I make you a better person because Chastity promotes self control over masturbation, selflessness to focus on the needs of others, especially your Domina, and self sacrifice by denying orgasm and pleasing Me with your obedience.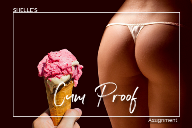 After class this Chastity assignment is Mandatory:  C*m Proof Assignment - Shelles's 7 Days OF CHASTITY.  The objective of this training is to promote Me as the focal point in your daily life, adjusting your routines and helping you acknowledge that I am the one true source for all your erotic and submissive pleasures with control and authority over your sex.  Chastity is a powerful tool that refocuses the submissive from a life of self gratification, independence and being in control to having to earn release and being much more dependent on its Dominant when making decisions.  For required files, if you need a package deal, email Me.
The only exception to My instructions is for My married submissive if your wife expects your services to please her.  Any disobedience and loss of self control will require a Chastity Penalty.
Coming this week (Sunday):
In addition to your School session, I have something special for My sissy slave with Sissy Chip Upgrade.  W/we'll have fun playing with this. ~giggles~
CHALLENGE TO PLEASE
W/we are making progress on reaching O/our goal...so don't forget Challenge To PLEASE is My immediate priority and thank you for being so helpful.  This is great motivation for all this work for you every week.  Keep UP the good work and I'll be keeping track to see who makes it into My Princess Circle as Prince Charming.  My slave knight, saving his Princess....oh, such a SEXY thought.  A special reward AWAITS!
UPDATES
After a week in Chastity, I will be talking more about the entire spectrum of My Masturbation Control Management.
NEXT WEEK
Next week will be the very powerful DOPAMINE 2 - ADDICTIONS OF THE MIND.  My new Picture set Dopamine 2–FETISHES FOR YOUR MIND will go perfectly with this session.  Double pleasure might make you too weak for Me.  A reward for a week in Chastity for Me.
Be ADVISED....I may change My mind...I am in control.  you follow!
I will respond to your reactions to School and Chastity.
My special deals ...