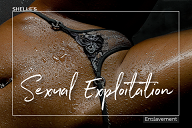 --- Listen to a Sample ---
My sweet, as you know your Domina is the QUEEN of Hypnotic-Mind-Fuck, oh how I'm about to prove this.  Have you ever experienced Sexual Exploitation?  Just the words stimulate your imagination, don't they?  What submissive man, or submissive woman for that matter, hasn't fantasized about being sexually exploited, taken advantage of by a sexy, beautiful Dominant Woman?  TEASED and TAUNTED...The idea of a beautiful Woman trapping and ensnaring you is so arousing, isn't it, My pet?  Hypnotic words drip from My lips...EXTREME EROTICA!  Ignore the whispers, they are not dangerous.
I will demonstrate My EROTIC POWER for you with Sexual Exploitation... this week's HOTTT HOTTT session.  I have lots of experience with EXPLOITING men/boys, getting what I want.  you do remember how I told you when I was a young school girl, I had all those boys surrounding Me, dreaming of having My exploiting them with just a pout of My lips or a teasing smile and My asking:  "Who's going to give Me his lunch money?"... every single one volunteered and emptied his pockets.  I could have all the lunch money I wanted.
Now, I'm a big girl and I am going to overwhelm your senses and manipulate you ...but not before I take you into a very deep trance.  This session is maybe the SEXIEST/ MOST EROTIC one that I have ever released.
Bonus Edition FREE:  INCLUDES a SPECIAL EDITION GIFT to kick-off the holidays.
CHALLENGE TO PLEASE
I need you so badly to take care of Me, My baby.  Who wants to be the first sweetheart to contribute to this year's retirement fund?  Listen to My NEW session and then take My CHALLENGE.
UPDATES
My NEW Painting has SHIPPED.  I'm sooo excited.  Thank you for spoiling Me.  It looks like the framing could take a little time due to the time of the year.  As soon as it is framed, I'll share it with you.
NEXT WEEK
On Thanksgiving Day, class is in:  Re-Form School Class #14-The EXPERIMENT...
and a surprise second session....Plus the sissy, I must love teasing you about this one....but it is ready.
Check out special deals:
Mindlessly Mesmerized --
My Crystal Ball steals your mind...ONLY deeper this time.
slave Cage --
Imagine yourself WEAK, dazed, and so HORNY. All because I command it!
Queen Of Hearts --
A MYSTERIOUS mind numbing file...intense...mystical and erotic.
NOTE:  Only 4 weeks till Xmas...I have added a few items to My Wishlist to help make your shopping easier.  Plus, I'll be adding a few items for the family that I am sponsoring too.