My love slave, this is O/our special time of year, intimately and romantically together. I am your Girlfriend AND Domina. you may thank Me for allowing you to spoil Me with Valentine's Day gifts. And, YES, I will be your Valentine and Sweetheart. But, I am a very special Sweetheart with this week's Shackled. I can be severely strict and Dominant, demanding your total submission and obedience and leave you helplessly at My mercy. I am Everything you need. So, download this session and enjoy your shackled subjugation.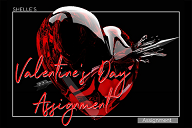 Then, cum give Me a kiss because I have something else special for you this week. My sweet and tender caring side that loves My sweet puppy. First, I have a 3 day Valentine Assignment, which starts Sunday. It includes two free sessions to listen to and lots and lots of pictures to adore in private. There is a small sign-up fee so I know who is participating for follow up contact.
For My LOYAL and devoted contracted sweethearts, who supports Me all year round, as they say, in sickness and in health, I will be emailing you something VERY special that you will need to complete the Valentines Day Assignment. With this Assignment and special GIFT you will experience all the pleasure of being My submissive slave VALENTINE, under My control... intimate, hypnotic and mind f*cked. There's such an excitement when you lose all control to your Domina and know you'll do whatever I tell you to do. (if you are not yet contracted you may contact Me for details)
I will have you feeling the deepest level of sexual desire and excitement as My gift to you. My words arouse your mind, My hands stroking your.....( ), triggering your arousal and pent up raw sexual desires for Me. Can you see that image in your mind, Me right there so close to you? Give Me another kiss, My Valentine sweetheart, and I will teach you that your ultimate orgasm only cums when you dedicate it to Me. After all, I am the object of all your obsessive desires. you will always be MINE. you love Me, you need Me and I will never let you go because you are so eager to please your Domina Shelle.
VALENTINE UPDATES
And, right NOW is the Perfect time to please your Domina Shelle. you have been shot through the heart again, My love slave. And, I want to be indulged and pampered. I want Gift Cards. you can see I have a few restaurants on My Wish List, so you can take Me to lunch or dinner.
you can Spoil Me and send for My hair, My nails-a mani/pedi, or a massage or anything else you want me to have. And don't forget My 2 day SPA retreat when I'll have a facial and all the pampering you can give Me with your Gift of LOVE.
Contracted, check your email for MORE...Yes, private enjoyment. ~giggles~
As I've said before, W/we find O/our true happiness when W/we love and are loved. Thanks for everything you do to help Me when I need it. I'll be going back to Tennessee after this week to relieve My one sister and stay to help with My other sister's recovery. When she is ready, We'll move her up to North Carolina. Can't wait for that.
Finslave, let's keep you on edge and working so HARD for your Fin-Domme.
Be sure to check My special deals ~~~